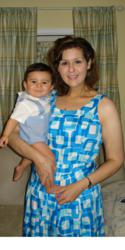 Dr. Patel and his staff truly saved my life!
(PRWEB) July 31, 2012
Dr. Nilesh A. Patel of Texas Bariatric Specialists (TBS) is pleased to announce that a Gastric Bypass procedure performed on Diana Lopez of Alice, TX has, in the patient's own words, "truly saved her life". Previously 355 lbs. and unable to have a family, Diana is now a happy, healthy 180 lb. mother of two very active boys.
Diana Lopez was averaging two hospital stays every year. Diagnosed with diabetes at 23, she had recurrent diabetes-related infections and bouts of pneumonia, as well as stress fractures in her legs and severe sleep apnea due to her weight. At 355 pounds, the few steps up into friends' houses may as well have been mountains. Polycystic ovaries prohibited her from getting pregnant and as she says "I felt awful every day of my life". Struggling with weight all her life, Diana was "the fat kid" and assumed that was the way it would always be. She says now she didn't know what it felt like to be healthy.
Determined to have a family, Diana and her husband unsuccessfully pursued adoption, until their adoption counselor confided that the photos and health data on their profile made them poor candidates. Birth mothers did not want their babies placed with an unhealthy mom.
That was a rude awakening for Diana, so she elected to take action. She spent time researching her options and became interested in weight loss surgery, eventually deciding on Dr. Nilesh Patel of Texas Bariatric Specialists due to his highly successful track record and reputation. Though her husband supported her, the rest of her family initially fought her decision, considering it "vain". But Diana knew that her motivation was a healthy and happy family, so persevered. Her insurance would not cover the surgery, but, with a working background in finance, she analyzed her current expenses and the projected costs, adding up all the money she spent on hospitalization, medication and missed work days, and realized that she would actually be saving money. "It's the best investment I ever made" she says now!
Diana's Gastric Bypass Surgery was performed by Dr. Patel in October 2008. She worked hard at changing her diet and exercise habits and began to shed pounds. She and her husband updated their adoption profile in May 2009, were chosen soon after and were the proud parents of a son by November 2009. In September 2010, Dr. Patel advised her that it was safe to try and conceive and Diana became pregnant almost immediately and enjoyed a normal, healthy pregnancy, gifting her with her second son!
When the busy mother of two happy and highly energetic boys is not running after them, Diana now makes time to run and walk on her own, "because it's fun!", she says! She takes the stairs to her third floor office, often two at a time. She still vividly remembers her milestones along the way, including the first time she could see her feet, then bend and tie her shoe, cross her legs, sit cross-legged on the floor and play with her niece on the swing set.
Currently averaging 180 pounds, Diana is determined to lose 10 more pounds and continues to get support from Dr. Patel and his staff at Texas Bariatric Specialists. "Dr. Patel and his staff truly saved my life!" she says. Friends and family members in her small town have been inspired by her example and have followed her to Dr. Patel. She encourages them and makes sure they understand that they still have to "do the work" of changing their lifestyles. She does her work every day and says that her only regret is she waited so long to do it! "There have been several times that I have been at a store and I catch a glimpse of myself in a mirror, and say...WOW! THAT'S ME!!!"
Diana tells us that she will be four years old this October. "I celebrate my birthday on the anniversary of my surgery, because I'm a new person!"!
About Texas Bariatric Specialists
Founded by Dr. Nilesh A. Patel, MD, a nationally recognized and fellowship-trained bariatric surgeon, Texas Bariatric Specialists (TBS) is a holistic weight loss practice focused on delivering long-term weight loss solutions for patients. Dr. Patel specializes in surgical weight loss procedures including Lap Band,Gastric Bypass Surgery, Gastric Sleeve, Gastric Band, and the revision of failed weight loss surgery, which have resulted in over 2,500 surgeries exceeding the national average of successful weight loss management.
With a commitment to surgical expertise, compassionate care and exemplary preoperative and postsurgical consultative services, Dr. Patel and his staff at Texas Bariatric Specialists ensure successful weight loss management for their patients through long-term relationships to support good health.
Offices are located across major cities throughout Texas including San Antonio, Austin, Corpus Christi, New Braunfels, Seguin, Boerne, Kileen, Temple, Del Rio and Laredo. For more information, or to book a free informational seminar, please visit http://www.texasbariatricspecialists.com.