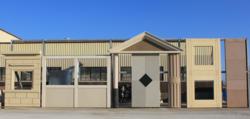 The Precast Concrete Design Centers are an effective way to illustrate aesthetic interest in the versatility of architectural precast concrete.
Dean Gwin, Gate Precast President & COO
Jacksonville, FL (PRWEB) November 20, 2012
Gate Precast, celebrating over thirty years' experience in precast concrete design and fabrication, announces its 2013 AIA-registered courses which can be presented in design professionals' offices or at Gate Precast plants where designers can take advantage of educational tours of the manufacturing process and the new Precast Concrete Design Centers which have been developed at each of Gate's six architectural precast concrete facilities.
Gate Precast, an AIA/CES Registered Provider since 2004, has created six continuing education courses that offer designers valuable information about new technologies and innovations in precast design in addition to assisting them in earning AIA/CES learning units many of which offer Sustainable Design (SD) credits.
Course topics and learning units are as follows:

Architectural BIM Design & Detailing – Case Studies: Features a case study on Perot Museum of Nature & Science in Dallas, TX (1.0 AIA LU/HSW)
Basics of Architectural Precast for Contractors and Designers (1.0 AIA LU/HSW)
Architectural Precast – Aesthetic Solutions (1.0 AIA LU/HSW)
Sustainable Precast Solutions (1.5 AIA LU/HSW/SD)
Achieving Aesthetic Goals with Inlaid Clay Products (1.0 AIA LU/HSW/SD)
Designing Building Envelope Systems with Architectural Precast (1.0 AIA LU/HSW/SD)
"Gate Precast is committed to keeping the design community up to date on new precast technologies and innovations while continuing to develop interest in designing sustainable structures," said Jim Lewis, Director of Architectural Systems, Gate Precast.
To enhance the learning opportunities for designers and develop an interest in using precast as a building system, Gate Precast has created interactive Precast Concrete Design Centers at its six architectural precast plants.
The centerpiece of the Design Centers is a full scale all-precast building which features a thermally efficient, insulated wall system with a wide variety of architectural precast surface finishes and textures. The interior of the precast walls is finished to view eliminating any additional materials such as drywall. The structure also illustrates how precast concrete interfaces with other materials like roofing, floors, fenestrations and electrical systems.
"The Precast Concrete Design Centers are an effective way to illustrate aesthetic interest in the versatility of architectural precast concrete. The design community can observe unlimited color options, textures and forming. The full-scale building is an ideal mechanism to illustrate how precast concrete systems interact with encapsulated edge-to-edge insulation," said Dean Gwin, Gate Precast President & COO.
Designers can register for continuing education presentations or educational plant tours by visiting http://www.gateprecast.com or calling 1-888-470-3450.
ABOUT GATE PRECAST COMPANY
Gate Precast Company is a subsidiary of Gate Petroleum Company, headquartered in Jacksonville, Florida. Gate owns and operates eight architectural and structural precast concrete manufacturing facilities located in Jacksonville and Kissimmee, Florida; Hillsboro and Pearland, Texas; Monroeville, Alabama; Winchester, Kentucky; Ashland City, Tennessee; and in Oxford, North Carolina.