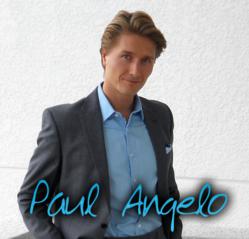 Gay matchmaker can coach you prior to matching and ensure you get your best match. Otherwise you repeat your "stories" and sabotage the new relationship.
Miami, FL (PRWEB) April 30, 2012
Hiring a gay matchmaker can be the best decision a gay man can take to find a serious love partner. But as it turns out, just meeting a high quality gay partner is not enough. Any gay man must first confront the self-sabotage that prevented him from finding love in the first place. Paul Angelo, gay matchmaker from Miami combines gay matchmaking with gay life coaching to ensure a complete and successful transition from being single into a loving gay relationship.
Click here to see gay matchmaker's website with videos and matchmaking advice for gay men over 40.
"Most gay men over 40 come with psychological pathology that follows them throughout their entire lives and that without prior coaching cannot be eliminated. This pathology ultimately leads to a viscous cycle of anxieties, emotional turmoil and failed relationships even if the man is attractive and has successes in other areas of life such as career and health." says Angelo.
"Imagine this scenario: gay man in his early 50's who is attracted to someone in his 20's. How do you solve that? The man goes through 3-6 month coaching program to understand attraction and compatibility as a combination of physical, emotional and logical components" says Angelo.
According to Angelo, selecting a partner because he is younger is usually associated with "lost youth syndrome" for gay men who came out later in their lives. For those men, younger men appeal attractive for reasons that are psychological and pathological in nature.
"Simply meeting more men through a gay matchmaker will not create a successful gay relationship. Gay matchmaking without coaching can leave the client disappointed, frustrated, angry and depressed. " says Angelo.
A professional gay matchmaker needs to recognize the client's own self sabotaging behaviors, such as:
*Denial
*Limiting Beliefs
*Fear
*Resignation
*Settling for less
*The Inner Child
*Poor Self Esteem
*The Fatal Flaw
*Drama Triangle
*Sex Addiction
Those self sabotaging behaviors and the "physical-perspectiving" contribute to the client's selection of his Perfect Match who in reality is his Perfect Nightmare. Without Angelo, client jumps on the same viscous cycle that kept the client single and unhappy with previous choices for gay relationships.
Paul Angelo, MHA, MBA offers a gay matchmaking process in which these self-sabotaging behaviors are identified and eliminated. His gay matchmaking process allows the client to precisely identify the Perfect Match based on three dimensions of attraction: logical, emotional, physical and based on his current short and long term needs.
So, how does this work in practice?
First, client goes through 6 gay coaching sessions in which every area of client's life is evaluated. This includes the identification of client's values, MBTI personality type, strengths, weaknesses, beliefs, causal-relationships, self-esteem, goals and relationship-based value proposition.
Second, the client identifies his Perfect Match based on three dimensions of attraction: logical, emotional, physical.
Third, client is set up on 10 dates in which client tests out the three dimensions of attraction and searches for the perfect equilibrium. Gay matchmaker coaches the client on what to say, what to do and how to be aware of the self-sabotaging behavior during dating and the early stages of the relationship.
Fourth, during the 10 dates, the gay matchmaker coaches the client about the strategy to meet and keep the person that fits the Perfect Match description. This includes private video introductions, gay video profile, online matchmaking campaigns and direct marketing ads in magazines.
Results?
87% of all clients that complete the coaching process find themselves in gay relationships, better health and more energy for life. Benefits of gay matchmaking with Paul Angelo branch out into all areas of client's life: weight loss, more money, more friends, feeling of happiness and fulfillment.
About Paul Angelo MHA, MBA:
Paul Angelo combines the knowledge of psychology, self-management, strategy, persuasion and communication to help gay men over 40 leverage relationships to live the ultimate lifestyle and live a life that is unlimited in potential.
Since starting in 2009, Angelo has taken on multiple clients that had previously seen no hope for a relationship and within 6 months found a partner and moved in together.
If you'd like more information about this topic, or to schedule an interview with Paul Angelo please call Paul Angelo at 954-736-9763 or e-mail Paul at PaulAngelo33(at)gmail(dot)com. You can also visit Paul's website at http://www.PaulAngelo.com.