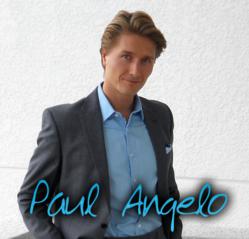 No one will love you for who you are. You will be loved for what you bring to the table.
Miami, FL (PRWEB) February 14, 2012
Valentine's Day is around the corner and Paul Angelo, MHA, MBA has a special gift for gay men over 40 who are looking for love in all the wrong places.
"It is not your fault that you are single, confused and frustrated. No one showed you gay-specific, proper dating and relationship strategies," says the Miami & South Beach gay matchmaker, Paul Angelo, MHA, MBA and the creator of the free video training series teaching gay men how to date a Total 10 Perfect Match and start a relationship.
To see the free video series please visit Gay Group Coaching website.
"Gay dating frustrations and gay relationship problems originate in not knowing who you are. As simple as it sounds, personal discovery process can be complex. Such complexity is the reason why 99% of all gay men have no clarity about who they are. If you don't know your strengths and weaknesses, your personality type, or who your psychological match is, then all the tricks and techniques that you hear on TV or from relationship coaches will just create more frustrations and disappointments," explains Angelo.
"I grew up in communist Poland in a catholic family. You can't find a worse place to grow up gay. No one taught me how to find the right partner and what to do in a relationship. My twenties were full of temporary breakups, getting-back-togethers and a cycle of hookups turning into friends or hookups turning into relationships. The breakthrough came when I turned 30 and went back to graduate school and developed interest in self-development, psychology, sociology and communications. As I put those teachings to use, my life transformed from frustrations and challenges into opportunities and fulfillment," says Angelo.
To get started with gay dating and gay relationships, Angelo suggests learning about the most common gay dating and gay relationship myths:
1. "You should be loved for who you are".
"Being loved for who you are is an excuse for not changing the way you are. You will be loved for 'what you bring to the table' and for how you communicate it. Your value proposition needs to be strong enough to attract your Total 10 Perfect Match. Otherwise you are spinning your wheels and going nowhere." says Angelo.
2. It (the relationship) will happen naturally/organically.
The only thing that will happen naturally is staying single and frustrated. A Total 10 Gay Relationship needs to be created by following a well planned strategy. The strategy might include knowing up front where to go and what to do during the first date, second date and third date. If a person has been single for longer than 2 years, upgrading one's wardrobe, training on communications, training on emotional intelligence and basic psychology is also recommended.
3. Looking for a relationship is a signal of being desperate or clingy.
Focusing on starting a relationship and being honest about it is a sign of maturity and goal orientation. Relationships make life easier.
"You can do it...", says Angelo.
Miami gay matchmaker receives tens of requests from the largest U.S. cities: Miami, New York, Los Angeles, Chicago, San Diego, Atlanta from men who are confused about how to date and how to create a Total 10 relationship. This proves that relationship and dating confusion amongst the gay community is widespread.
To remedy this situation, Angelo just released a free video series about gay dating and gay relationship training located on this website: http://www.GayGroupCoaching.com.
The free 3-video series discusses 10 secrets to gay dating with a Total 10 Perfect Match and a formula for putting the secrets into practice. Most common questions are also addressed in this free training video series.
"However, this free content-rich video series will be closed down soon," says Angelo, so if anyone wants to see it, the time is now.
To see the free video series please visit Gay Group Coaching website at http://www.GayGroupCoaching.com
# # #