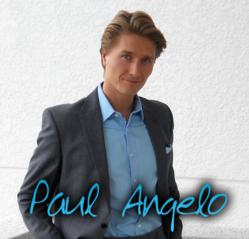 Gay Video Matchmaking Gets 2-Dates Every Weekend For Most Gay Clients
Miami, Florida (PRWEB) April 24, 2012
Finding a high quality gay partner gets easier with technology says Paul Angelo - gay matchmaker in Miami who uses video matchmaking to attract high quality gay matches for his upscale clients.
Click here to visit the gay matchmaker's website.
"Gay Video Matchmaking is extremely effective. Clients who use gay video matchmaking are flooded with new dates every week. On average - 2 new high quality dates every week" says Angelo.
Getting into video matchmaking was accidental for Angelo. Prior to using video for his gay matchmaking service, he was involved in putting together video profiles for executives and matching them up with potential employers.
"Gay video matchmaking is extremely efficient because it works 24/7. Even when the client is sleeping, he has a video profile that attracts new dates every day and not any dates but high quality, sophisticated and well rounded men who are tired of the online dating scene." explains Angelo.
Click here to see example of a gay matchmaking profile.
Gay video matchmaking is the future. Video matchmaking carries a lot of benefits for clients looking to meet a high quality partner and settle down. Here are the 5 biggest benefits.
1. Gay video matchmaking sets the client apart from every other service. It is unique and different. The video sets the intention for transparency and authenticity about the desire to meet and fall in love. Clients who use video matchmaking get lots of responses because the intention is clear and pure.
If a client pays money for the service he must be serious about finding a partner for life and not just fool around. Many gay men on traditional gay dating websites are in relationships or just looking for hookups. When a person invests his time and money into a video matchmaking profile they convey seriousness about meeting others for relationship purposes.
2. All gay clients are coached on what to say during the video. Prior coaching ensures that every clients delivers powerful message in the shortest amount of time. The message is clear, short and to the point giving the listeners enough information to make a decision.
3. Gay video matchmaking separates the high achievers from the low-end wannabes. If a client is willing to get a video matchmaking profile, he is an ambitious person with no time to waste. Such men are go-getters and they know what they want. Gay video profiles are not for an average Joe wanting to "see what happens".
4. Clients save on average 20 hours per month by having a professional gay matchmaker representing their interest and protecting them from bad matches and dates that lead nowhere. Angelo pre-screens everyone to ensure safety and to make dating fun and exciting again.
5. Gay video matchmaking improves client's self esteem and confidence. The experience of putting together a script for the video, practicing voice tonality and being in front of a camera boosts the self esteem of the client and makes him feel stronger.
Angelo's services are definitely for the high-end clients who are looking for results but have limited time and patience for incompetence. Angelo's strong commitment to results ensures that from day one, clients get top notch service with focus on delivering high value and integrity.
About Gay Matchmaker and Gay Relationship Coach Paul Angelo MHA, MBA:
Paul Angelo, originally from Poland, lived in Chicago for 10 years, moved to Miami, quit his job as a health IT manager to become the world's first gay matchmaker for gay men over 40.
Paul Angelo combines the knowledge of psychology, self-management, strategy, persuasion and communication to help gay men over 40 leverage relationships to live the ultimate lifestyle and live a life that is unlimited in potential.
By combining strategy, persuasion and psychology, Angelo helps gay men over 40 see a relationship as a sequence of steps that carry a different requirement and which can be taught to anyone who is willing to learn and change.
If you'd like more information about this topic, or to schedule an interview with Paul Angelo please call Paul Angelo at 954-736-9763 or e-mail Paul at PaulAngelo33(at)gmail(dot)com. You can also visit Paul's website at http://www.PaulAngelo.com.