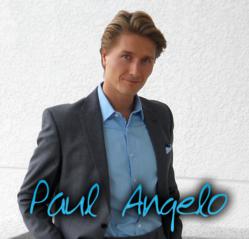 To keep a healthy gay sexuality, new perspectives are necessary - ones that can be shocking to some.
Miami, FL (PRWEB) November 30, 2012
In a new interview, Paul Angelo, gay matchmaker and gay life coach specializing in gay men over 40 offers new perspectives for gay sexuality in the next 10 years:
1. Intimacy and sexuality will split.
2. Sexual expression will be available through the help of sex-coaches.
3. Rapid HIV and STD testing will become more common and allow for testing prior to sexual activity.
4. Sexual adventures can be safely played out in sexuality boutiques as part of sexual health management.
Readers can visit Angelo's website at http://www.PaulAngelo.com.
"Sexual expression for an HIV negative gay man, single or partnered is complicated today. Due to high rates of new HIV infections and STDs, those gay men who want to remain HIV negative and STD-free are under a lot of stress. In addition, the Internet takes sexual expression to levels unseen ever before and interest in fantasy-like sexuality is growing. To keep a healthy sexuality, new perspectives are necessary - ones that can be shocking to some." says Angelo.
Angelo's new perspectives are at the forefront of relationship design for gay men over 40. According to Angelo, sexuality and intimacy will eventually split and gay men will realize that healthy sexuality can be maintained with the help of sex coaches, just like a healthy body can be attained with the help of a personal trainer. Forcing one's partner to fulfill his sexual fantasy will no longer be necessary and blaming ones partner for lack of sexual fulfillment will no longer create jealousy and prevent both lovers from achieving deeper intimacy based on honesty and transparency.
Sexual boutiques will allow sexual adventures to be played out in a healthy way so that each participant receives sexual fulfillment without jeopardizing his health. Everyone will be tested for HIV and STD's and health records will be kept for safety of all participants.
Gay relationships, according to the gay matchmaker, will also see a major shift in understanding and applying the knowledge of sexuality. Through gay life coaching, gay men will understand that a relationship does not have to inhibit one's sexual expression and understanding each other's sexual needs and safely playing them out with the help of sex-coaches and sexual boutiques will allow for transparency and unprecedented integration of intimacy, trust and loyalty.
"At the end of the day, you want to be with a partner who knows you, understands your secrets and who allows you to be who you truly are, in the bedroom and out of the bedroom. Seeking sexual fulfillment has been limited by the rules from straight men and women. Those rules were designed to protect the family and the kids. Gay relationships don't need those rules. And the future will show just how a healthy and well-managed sexual expression contributes to the fulfillment on one's life." says Angelo.
To get access to the full interview, readers are encouraged to visit Angelo's website at http://www.PaulAngelo.com
About Gay Matchmaker and Gay Life Coach Paul Angelo MHA, MBA:
Paul Angelo combines the knowledge of psychology, persuasion and communication to help gay men over 40 leverage relationships to transform their lives.
Since starting in 2009, Angelo has taken on multiple clients that had previously seen no hope for a relationship and within 6 months found a partner and moved in together.
If you'd like more information about this topic, or to schedule an interview with Paul Angelo please visit Paul's website at http://www.PaulAngelo.com.