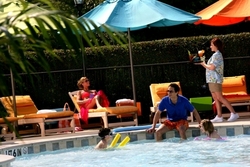 Discover Nashville with Your Family
Nashville, Tenn. (Vocus) May 19, 2009
It will be a hot Tennessee summer in the coolest place in the South with the endless new summer entertainment at Gaylord Opryland Resort in Nashville, Tenn. With a new Kids Eat and Stay Free program, free SummerFest fun, new entertainment-packed vacation packages and countless country music-related shows and activities the options for a memory-making vacation that is just a one-day's drive from 50 percent of the nation's population are almost limitless. Soak up the details here:
NEW! SUMMER FUN AT A VALUE:

Kids Eat and Stay Free All Summer Long.* Parents, save cash while on vacation at Gaylord Opryland Resort this summer. For the first time, kids staying overnight at Gaylord Opryland with at least one adult, eat free every meal, all summer long. Also, there is no additional charge for children who are staying with their parents in their room (3rd and 4th guests free). The new Kids Eat Free menus include many traditional favorites and healthy options and all kid-friendly. To see the menus click here. *Offer applies to children 11 years old and younger. Other restrictions apply. Please see http://www.gaylordopryland.com for details.
Poolapalooza free concert series. Sunshine and free local music while cooling off at the beautiful Opryland Cascades swimming pools, now that's summertime fun. Poolapalooza is held every Friday night during the summer at Gaylord Opryland starting at 6 p.m. and lasting until 9 p.m. May 29-July 24, 2009.
SummerFest 2009 country style. SummerFest entertainment is back at Gaylord Opryland and now has a country flair! The celebration includes nightly Delta Island parties with country line dancing and a D.J., evening country cruises along the indoor Delta River in a fun, lighted boat with music from the Grand Ole Opry; fountain shows choreographed to country music; "Breakfast with the Legends:" a hearty country breakfast buffet with country legend look-a-likes; street characters and much more. Much of the entertainment is free for guests.
NEW! ENTERTAINMENT-FILLED VACATION PACKAGES
"Discover Nashville with Your Family" vacation package. May 22 - Sept. 7, 2009. "Discover Nashville with Your Family" indoors and outdoors. Enjoy family-friendly attractions such as the Nashville Zoo, Adventure Science Center and Cheekwood Botanical Gardens & Museum of Art, as well as activities at the Gaylord Opryland Resort, including flatboat rides, indoor and outdoor pools, video arcade, scavenger hunts in the Delta Atrium, which was recently named Best Indoor Adventure by readers of Nashville Scene and more! 2- and 3- night room packages start at $163* per person based on double occupancy. Book by calling 1-888-999-OPRY (6779).
Food Network Southern Food & Wine Festival at Gaylord Opryland packages. July 31- Aug. 2, 2009, cooking demonstrations from some of the Food Network's most popular chefs including Alton Brown, Bobby and Jamie Deen and The Neelys, along with some of Gaylord Opryland's award-winning culinarians. Learn secrets from the best, get autographs, and stroll the exhibit hall which will showcase products for the kitchen plus food samplings from top national brands. A retail section will include cookbooks, kitchen essentials and more. Festival packages start at $139*. To reserve call 1-888-999-OPRY (6779).
All-American Country Getaway packages. Be at the heart of everything country with Nashville's newest country music entertainment and the nation's most authentic country music vacation, available at a significant savings. There are 2, 3 and 4 night package options and the more that is included, the bigger the discount. See the Grand Ole Opry's new Thursday shows, Country Music USA on The General Jackson Showboat, tour the Country Music Hall of Fame and Museum and much more. Available on select nights, through November, 2009.
NEW! PLAYTIME OPTIONS:
Hotel and Garden Self-Guided Audio Tour. Have fun and learn about the history, the beauty, and the gardens of the iconic Gaylord Opryland by taking the new Hotel Audio Tour. The self-guided headphone experience takes guests through the entire interior of the resort for a walk that last about an hour. The charge is $5 and the equipment can be rented and returned at the Cascades Lobby Concierge Desk.
Check-In, ROCK OUT! Is the much-talked- about new program at the resort which gives guests the chance to rent one of an array of amazing Gibson and Epiphone guitars for a day. Each guitar comes with a Pocket POD, a hand-held portable amplifier with headphones, which allows guests to really "rock out" in their rooms without disturbing other guests. Gaylord Opryland is the only hotel in Nashville where Check-In, ROCK OUT! is available. The guitars can be checked out at the hotel's concierge desk, located in the Cascades Lobby, for $50 per day. Guests must be 18 years of age or older to check out a guitar, and a credit card deposit and lease agreement are required.
Country Music USA. This live show is a nostalgic journey through country music on The General Jackson Showboat. Inspired by the popular show at the former Opryland Themepark, this three-hour evening cruise features songs made famous by country legends. A delicious prime rib of beef, three-course dinner accompanies the country-style experience down the Cumberland.
Tim Watson's Fiddlin' Around is the high-energy country music and comedy show now on board the General Jackson's midday cruises. Watson is famous for his fantastic fiddle playing and down-home humor. Slow-roasted country pit ham and green bean casserole are just two of the items on the popular lunchtime menu. Tim Watson's Fiddlin' Around and Country Music USA run through November 15, 2009.
For more information call 1-888-999-OPRY.
Media Relations Contacts:
Ann Dee McClane-Bunn, (615) 458-2896
Kim Keelor, (615) 458-2877
# # #