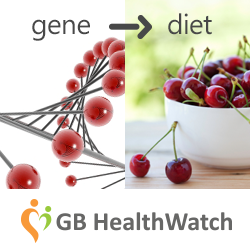 Genetics directs us to areas of the diet that may be more important for an individual to focus on to reach health and fitness goals...
San Diego, CA (PRWEB) March 25, 2013
GB HealthWatch, a pioneer company in the field of nutritional genomics (gene-diet-disease interaction), is developing an interactive and user-friendly website. Visitors learn how genes influence risk for obesity, hypertension, diabetes, cancer, cardiovascular disease, Alzheimer's disease, and depression - and how changes in diet and nutrition can make a big difference.
Genes play a key role in deciding how the body responds to foods and nutrients in the diet. And because not every person has the same genes, the same diet does not work the same for everyone. With this in mind, GB HealthWatch introduces to the public ways to use personal genetics to optimize dietary choices and effectively prevent chronic disease. "Using genetics in nutritional planning directs us to areas of the diet that may be more important for an individual to focus on to reach health and fitness goals," states registered dietitian and nutritionist, Christina Troutner. By incorporating genetics, design of effective dietary interventions becomes easier as does their implementation.
Many gene-diet interactions explored by GB HealthWatch exemplify that a focus on certain nutrients may be more important for some than others. For example, a variation of the ACE gene, carried by almost half the US population, leads to greater increases in blood pressure with higher salt intake while variations of the MTHFR gene can compromise folate metabolism, leading to increased risk for cardiovascular disease. Incorporating findings such as these into nutritional planning allows people to make better food choices, specific to their own genetic predisposition.
The GB HealthWatch website provides the unique tools users need to apply information about gene-diet interaction on a personal level. Different from other calorie counters, the GB HealthWatch' diet and nutrition evaluator tool allows users to monitor over 30 important nutrients in foods and provides practical guidelines on how to select top foods to satisfy nutrient needs. Nutritional analysis is personalized for the user, based on gender and age. Other GB HealthWatch tools offered in the site include an activity and exercise tracker and BMI calculator.
About GB HealthWatch
GB HealthWatch is a nutritional genomics company. We study gene-diet-disease interactions. Our mission is to help prevent common chronic diseases through targeted, gene-based nutritional and dietary intervention. We aim to inform people about the scientific basis of chronic diseases, support them with nutrition management products and services and empower them to take control and live better lives. What questions do you have about the gene-diet relationship? We invite you to visit http://www.gbhealthwatch.com and explore.