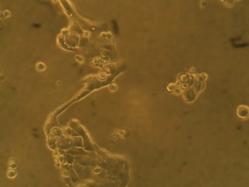 GcMAF is the most potent form of macrophage activating factor ever discovered that produces no side effects in humans,
(PRWEB UK) 6 December 2012
Unlike many other medications for cancer, which rely on statistics which can be massaged, or laboratory results that give likely outcomes, there is now video proof of the effectiveness of a naturally occurring human protein in tackling breast cancer.
Despite the fact that millions have been spent on cancer research, it has taken the work of an independent biomedical laboratory in the UK to finally come up with video proof of this cure for cancer.
First Immune GcMAF is a naturally occurring human protein that activates macrophages and rebuilds the immune system. It is in every healthy person but the body's ability to make this protein is curtailed when cancer or viruses take hold. 46 research papers have been written by 107 eminent scientists on GcMAF. It is a well understood molecule.
Although GcMAF was discovered as a cure for cancer and viral infections over 20 years ago, it has taken the efforts of First Immune GcMAF to make this available for the public to use. They extract GcMAF from human serum, and it goes through nine quality control checks to ensure sterility and activity. Two of these tests involve live cancer cell lines.
In the first test, immune system macrophages are added to cancer cells and nothing happens. First Immune GcMAF is then added, and the macrophages become activated and "eat" the cancer cells within 72 hours.
In the other test, First Immune GcMAF is added to cancer cells without macrophages being present. The GcMAF turns the cancer cells back into normal healthy cells.
The tests are recorded in time lapse photography and this is the first time that a cancer cure can actually be seen, via photographic evidence, to actually work. It is astounding that a small laboratory, without the funding and backup of millions in donations and grants that many well known cancer charities receive, has been able to come up with concrete evidence of a cancer cure.
First Immune GcMAF, which is administered via a weekly intramuscular injection, simply rebuilds the immune system and the immune system can eradicate around 6,000 diseases. It is available to both clinics and the general public.
GcMAF has so far been used by over 4,000 people, who report successes in treating a wide range of illnesses including many types of cancer, HIV, autism, herpes, CFS, EBV, Lyme, chronic ear and eye infections, type 1 diabetes and many other ailments that have their roots in chronic infection.
You can obtain further information and see the list of 46 research papers and the videos at http://gcmaf.eu.