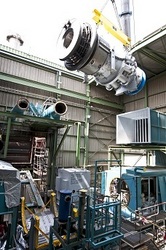 The SAICA project is our first major 6B upgrade project in the world and will serve as a model for future applications throughout the region.
Zaragoza, Spain (PRWeb UK) March 1, 2011
In only seven weeks, GE has completed a major upgrade of a Frame 6B gas turbine at an industrial recycling paper mill in El Burgo de Ebro (Zaragoza), Spain. Replacing the key components of the gas turbine with new, advanced design parts in a single unit has resulted in increased operating efficiency, a significant reduction in emissions and a considerable life extension for the plant. The project was the first of its type in the world for a GE 6B gas turbine.
The paper mill is owned by S.A. Industrias Celulosa Aragonesa (SAICA), an international company that specializes in the production of corrugated cardboard boxes. The gas turbine upgrade will enable the SAICA plant to continue to receive the total feed-in tariff from the Spanish government. According to the Spanish legislation, cogeneration plants under 50 megawatts no longer qualify for the total feed-in tariff after 15 years of operation, unless they adopt more efficient and environmentally responsible technologies as specified in the legislation.
"SAICA is fully committed to supplying sustainable quality products to the industry," said Antonio Pérez Palacio, Energy & Services Director of SAICA Group. "The agreement with GE reinforces SAICA's position as a European leader both in efficiency and sustainability - key factors critical to the success in the global paper industry. GE's capacity to comply with the tight schedule was critical in order to restart operation of the plant as early as possible".
The upgraded Frame 6B at the SAICA cogeneration plant delivers approximately 38 megawatts of power, which is then sold to the national power grid, and produces steam for use in the paper production process. The project included the installation of GE's Dry Low NOx (DLN) combustion technology to reduce NOx emissions from around 150ppm to less than 15ppm without steam injection.
"Offering increased efficiency, higher performance and emissions control, this gas turbine upgrade program supports our commitment to deliver solutions that allow our customers to operate their plants in a cleaner, smarter, and more efficient way," said Corinne de Bilbao, general manager of GE Energy Services, Western Europe and North West Africa. "The SAICA project is our first major 6B upgrade project in the world and will serve as a model for future applications throughout the region. This type of upgrade brings significant results in a much shorter time than replacing the old gas turbine with a new unit would require."
All press releases & statements can be found on our press room:
http://uk.geenergyeurope-pressroom.com/
About GE
GE is a diversified infrastructure, finance and media company taking on the world's toughest challenges. From aircraft engines and power generation to financial services, health care solutions and television programming, GE operates in more than 100 countries and employs about 300,000 people worldwide. For more information, visit the company's website at http://www.ge.com.
GE serves the energy sector by developing and deploying technology that helps make efficient use of natural resources. With nearly 85,000 global employees and 2009 revenues of $40 billion, GE Energy http://www.ge.com/energy is one of the world's leading suppliers of power generation and energy delivery technologies. The businesses that comprise GE Energy - GE Power & Water, GE Energy Services and GE Oil & Gas - work together to provide integrated product and service solutions in all areas of the energy industry including coal, oil, natural gas and nuclear energy; renewable resources such as water, wind, solar and biogas; and other alternative fuels.
For more information, contact:
Frank Farnel
GE Energy
+33 6 18 42 20 67
frank(dot)farnel(at)ge(dot)com
Nicole Jung
Hopscotch Europe In One
+44 (0)208 1333140
njung(at)hopscotch(dot)eu
# # #