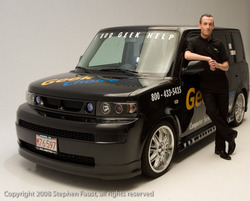 We are excited to be able to offer our clients premium graphic design services. We have gotten numerous requests for this over the years and have finally found the ideal partner company to provide it
Boston, MA (PRWEB) December 10, 2008
Geek Choice, a Boston, MA - based nationwide provider of computer service and repair, delivering premium on-site service to thousands of residential and small business clients, has announced today that it has acquired ViewPoint Studios, a graphic design company also based in Boston.
About ViewPoint Studios
ViewPoint Studios has served over 1000 Boston-area law-firms, publishing companies and other business clients since 2000. Based in the Roslindale neighborhood, their artists boast an average of 15 years experience in graphic design. By teaming up with them, Geek Choice can now offer website, logo and other creative design services to their national client base.
Those clients and their neighbors can now turn to Geek Choice, the largest provider of computer repair services in New England. Formerly known as Computer Geeks, Geek Choice has been based in the heart of Boston since it's inception in 1996. Many of their 60,000 residential and small business clients have entrusted all their computer needs to them since the beginning.
About Geek Choice
Geek Choice is a highly-respected one-stop shop for computers, peripherals, repairs, upgrades, installations, tutoring and affordable virus protection. Their busy national office doubles as a friendly, accessible storefront and is a fixture in its Beacon Hill neighborhood. Geek Choice clients can also enjoy on-site service on the same day or within 24 hours, and for most issues they have the option of immediate remote service. Many Geek Choice clients also take advantage of the Business Partner Advantage program, which allows both companies and individuals to prepay for blocks of time at a discounted rate.
"We are excited to be able to offer our clients premium graphic design services. We have gotten numerous requests for this over the years and have finally found the ideal partner company to provide it," says Stan Benton, Vice President for Customer Care at Geek Choice. "I encourage the clients at both Geek Choice and ViewPoint Studios to call our office and ask about what we can do for you."
ViewPoint Studios clients will be able to immediately enjoy the full range of Geek Choice services - including all the benefits of being an existing client. And according to Kevin Porter, President and CEO of ViewPoint Studios, their computers and networks will be in good hands. "I have been referring my clients to Geek Choice for years. Their technicians are prompt, experienced, and knowledgeable - and they'll communicate with you in plain English."
For more information, please contact a professional Customer Service Representative at (800) 433-5435.
Contact:
James Bruce
General Manager
617 778-2302
jbruce@geekchoice.com
###