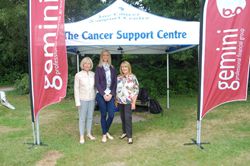 Birmingham, West Midlands (PRWEB UK) 29 June 2015
Gemini Professional Financial Group, the professional services company headquartered in Sutton Coldfield, recently held its 6th annual golf day in support of its Charity Partner – Sutton Cancer Support Centre
This year, nearly 100 guests, including clients, sponsors, staff and charity representatives gathered at Sutton Coldfield Golf Club to enjoy a days golf and to raise vital funds for charity.
Chris Wathen, Group Marketing Manager at Gemini says "Organising our annual golf day takes a lot of preparation and planning, but is always well received by those who attend. This year, we set ourselves an ambitious target of doubling our fundraising from last year's total. We wanted to raise over £3,000"
Director and event MC, Gary Metcalf goes on to add "We have continued our support of Sutton Coldfield Cancer Support Centre and all our staff know of the valuable work they do in our local community"
Chris Wathen continues "As our long standing charity partner, we invited Pat Brighton, Fundraising Trustee of the charity to say a few words on the day."
Pat Brighton adds "We are truly grateful to Gemini for their continued support and the invitation to speak at their golf day was very welcome. We are a self-funding charity and rely on the good nature and support of our fundraisers and benefactors. I would like to say a huge thank you to all those who supported the event and gave so generously"
"So far, as we still have some auction items online, we have raised £3,750. I would really like to thank our amazing clients, sponsors and staff for all their support." concludes Amanda Reid, Gemini Director.
For more information on Gemini – please visit http://www.gemini-pfg.com.
For more information about The Cancer Support Centre, visit http://www.suttoncancersupport.org