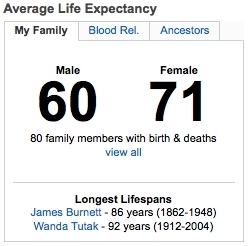 Geni users have added a wealth of information about 50 million of their relatives. These new Pro features give users a fundamentally new way to access and view this information
Los Angeles, CA (PRWEB) March 30, 2009
Leading genealogy site Geni.com announced today the availability of Pro accounts with additional features and tools for power users. Pro Account benefits include:

Tree Statistics: Comprehensive statistics for insight into your family history
Advanced Search: Search over 50 million profiles by immediate family, location, date and more
Enhanced Relationship Paths: Discover your exact relationship to any blood relative on Geni
Forest GEDCOM Exports, Pro Badge, Priority Support and more!
"Geni users have added a wealth of information about 50 million of their relatives. These new Pro features give users a fundamentally new way to access and view this information," said David Sacks, CEO of Geni.com. "Advanced Search enables Pro users to target their research and discover new branches of their family tree. Tree Statistics gives users a fascinating new way to learn about their family history. With Advanced Search, access to the entire suite of Tree Statistics, and a number of other features, Geni Pro accounts are a bargain at less than $5 a month."
Pro subscriptions are available now for $50 annually or $4.95 when billed monthly. More details are available at pro.geni.com.
About Geni Inc.
Geni Inc. provides through its website Geni.com a free tool for understanding and staying in touch with your family online in a private, secure environment. More than 3 million users have created more than 50 million profiles for their relatives. Geni was a winner of the 2007 Webware 100 Awards, which named it one of the top 100 sites on the internet and one of the top 10 reference sites. It is by far the youngest site to receive this honor. It was nominated again in 2008 in the social (networking) category. In May 2008 Time™ Magazine named Geni.com one of the Top 50 Websites of 2008.
Geni Inc. is a privately held company headquartered in Los Angeles, California. Geni was founded by former executives and early employees of PayPal, eGroups, eBay, and Tribe and is backed by venture capital firms Founders Fund and Charles River Ventures.
###