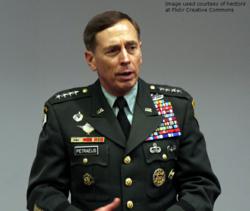 I know I can never fully assuage the pain that I inflicted on those closest to me...
(PRWEB) March 27, 2013
"When it comes to an extra-marital affair, accept the consequences of your action, take time to genuinely feel the weight of your infidelity, and work with your spouse to design a strategy for continuing to strengthen your marriage," says faith-based website, followme.org.
That statement came today as Gen. David Petraeus on Tuesday publicly apologized for the extra-marital affair that ended his military and intelligence career in November 2012, according to the Los Angeles Times.
Petraeus, the former Director of the CIA, delivered a speech to about 600 guests at a USC banquet celebrating veterans and ROTC students, the Los Angeles Times reports. This speech marks the first time that Petraeus has stepped into the public eye since his illustrious military and intelligence career ended last year.
Though his remarks were primarily focused on improving services to American veterans, he began his speech with an apology: "Please allow me to begin my remarks this evening by reiterating how deeply I regret-- and apologize for-- the circumstances that led to my resignation from the CIA and caused such pain for my family, friends and supporters."
"I know I can never fully assuage the pain that I inflicted on those closest to me and a number of others," Petraeus said, according to ABC News.
Yet despite the trauma of that affair, Petraeus said it is time to move forward: "One learns after all that life doesn't stop with such a mistake; it can and must go on."
And one faith-based organization that provides marriage resources says that Petraeus' actions in the wake of his affair are worth noting. Pastor Jamie of followme.org says that couples seeking reconciliation after an affair should follow Petraeus' lead in "retreating from the public eye."
"The trend in marriages today is for couples to simply 'fall out of love.' Keeping a busy schedule after an affair allows this to happen. Petraeus, meanwhile, was wise to withdraw and focus on rebuilding his most important image: his image to his wife and family," says Pastor Jamie.
"With time, a couple can work together to forge a new path forward after the affair. But in the immediate aftermath of the affair, the offending spouse needs to focus on two things: feeling the depth of the pain she or he caused and working to rebuild trust in the relationship," Pastor Jamie says.
What is next for Gen. Petraeus? He said on Tuesday that he plans to support various non-profit groups that work to improve the lives of veterans, according to the Los Angeles Times. Himself a combat veteran, Petraeus spoke of the complications that await a soldier upon returning from war. At the same time, the Wall Street Journal today published an editorial written by Gen. Petraeus, detailing the necessity of helping veterans to find employment and discover a new career path after returning from war.
But followme.org reminds couples recovering from an affair that reconciliation is a time-consuming process. "Just as with recovering from the death of a spouse or a bout with depression, recovering from an extra-marital affair takes time and persistance. But, if handled correctly, a marriage can actually grow stronger in spite of an affair," says Pastor Jamie.
For more information, please visit http://www.followme.org. Followme.org is a ministry of ShoutChurch.tv: http://www.shoutchurch.tv.