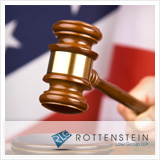 ...If the Supreme Court finds that product defect claims under state law are not permitted by federal law, then it will be nearly impossible for plaintiffs who have been harmed by their prescriptions to sue generic drug manufacturers.
New York (PRWEB) March 18, 2013
The U.S. Supreme Court is hearing arguments this week that could give patients injured by their generic medications the right to sue, where previously only original manufacturers could be held liable. The Rottenstein Law Group, which represents clients in drug side effects lawsuits, will be monitoring proceedings as they progress.
Karen Barrett of New Hampshire sued Mutual Pharmaceuticals of Philadelphia after she developed Stevens-Johnson Syndrome that rendered her blind and after which her skin began to fall off following the use of the generic drug sulindac, which the company manufactures, according to Reuters.* A jury awarded her $21 million, which an appeals court upheld.
If the Supreme Court upholds the ruling of the lower courts, it would open the door for claims against generic drug manufacturers, said Rochelle Rottenstein, principal of the Rottenstein Law Group, which represents clients in drug side effects lawsuits.
"This would be a reversal from a 2011 Supreme Court ruling (PLIVA v. Mensing), in which the court ruled that generic drug manufacturers could not be sued failing to warn about certain health risks because federal law requires generic drugs to carry the same label as their brand-name counterparts," Rottenstein said.
How Bartlett's case was able to avoid that fate was through an argument that sulindac was inherently flawed by design, based on a larger number of adverse event reports related to skin side effects, according to Reuters. Mutual argued that because by law they have to adhere to the original drug's design, its hands were tied. However, according to the article, a Boston appeals court ruled the company could have simply stopped making the drug.
"But if the Supreme Court finds that product defect claims under state law are not permitted by federal law, then it will be nearly impossible for plaintiffs who have been harmed by their prescriptions to sue generic drug manufacturers," Rottenstein said. "This would be troubling because patients who are prescribed brand-name medications often end up with generic medications because of insurance policies or cost concerns."
*reuters.com/article/2013/03/18/us-usa-court-generics-idUSBRE92H09Y20130318
About THE ROTTENSTEIN LAW GROUP
The Rottenstein Law Group is a New York-based firm that represents clients nationwide in mass tort actions. The firm was founded by Rochelle Rottenstein, who has more than two decades of experience as a lawyer, to represent clients hurt by defective medical devices. (Attorney advertising. Prior results do not guarantee a similar outcome.)
Contact:
The Rottenstein Law Group, LLP
Rochelle Rottenstein, Esq.
321 W. 44th Street
# 804
New York NY 10036
(212) 933-9500 (office phone)
(212) 933-9980 (facsimile)
rochelle (at) rotlaw (dot) com
http://www.rotlaw.com