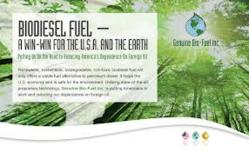 Genuine Bio-Fuel also offers free training to employees if they want to pursue careers in the green sector.
Indiantown, Florida (PRWEB) March 28, 2013
Genuine Bio-Fuel Inc., a leading biodiesel producer of Florida, has designed a model program, entitled the Second Chance Program, for staffing its company with quality, dedicated employees as well as assisting former inmates and Veterans reestablish themselves within society. Executive Vice President of Genuine Bio-Fuel Inc. Jeff Longo believes, "companies in the alternative energy industry have a responsibility to spur job creation. What better way to spark the economy, then to employ and equip people eager to learn with the tools to build a better future for them."
GBF's Second Chance Program provides equal wage jobs to former inmates and Veterans. The program was established to create an environment where former inmates and Veterans are able to start a new life. In addition to each employee receiving another chance to rebuild their lives, Genuine Bio-Fuel also offers them free training if they want to pursue careers in the green sector.
The program's success is partially due to the "hire, not fire" approach to staffing the program taken by the GBF executive team. Its outreach efforts include hiring Veterans who have just returned from serving our country as well as former inmates in need of a fresh start and new lease on life. Employees in this program are empowered through comprehensive on-the-job training, and as a result GBF has built cohesive team driven environment and experiences low attrition rates.
Longo commented, "We hope to serve as a positive example in the biodiesel industry of what happens when businesses begin investing in people again."
More about Genuine Bio-Fuel: Genuine Bio-Fuel Inc. is a leader in biodiesel production and technology in Florida. Working with local communities since 2008, they collect used vegetable cooking oil, plant oils and fats, refine it and efficiently produce renewable, sustainable clean biodiesel that meets or exceeds the required ASTM standards. An RFS-2 Registered Renewable Fuel Producer, this dedicated environmental steward is 100% privately funded.
To find more information on the Second Chance Program please contact Jeff Longo by phone toll free 866-268-7885, or via email at gbf(at)genuinebiofuel(dot)com.
To find out more about Genuine Bio-Fuel please visit our website http://www.genuinebiofuel.com/.