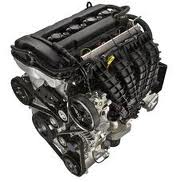 The termination of the Tracker vehicle has complicated locating replacement motors for some buyers.
Beaumont, Texas (PRWEB) March 28, 2013
General Motors created the Geo Tracker along with Suzuki in 1989. This miniature SUV remained in production as a Geo vehicle until 2004. While Chevrolet picked up the production of this vehicle after termination, locating the 1.6 Geo Tracker engine can be difficult for buyers. The EnginesforSale.org company is now discounting its preowned Tracker engines for all online sales. These discounts are expected to remain in effect through the end of this year and more information is available at http://enginesforsale.org/geo/used-geo-engines-for-sale.
Sales of the Tracker in the United States and Canada helped to introduce the concept of the smaller SUV to buyers. While the initial 1.6 engine receives only 96 hp, the 2.0 engine was later upgraded to provide more torque and power for buyers. The termination of the Tracker vehicle has complicated locating replacement motors for some buyers.
The acquisition of this motor for sale online is expected to help buyers without resources to purchase preowned Geo engines online. The discount pricing attached is expected to offer alternatives to traditional MSRP pricing.
EnginesforSale.org company recently made improvements to its website online. One of the most used features now on the company website is a virtual quotation system. This new system links all of the current inventory with pricing and complete warranty terms online.
Users of this new system have the ability to receive an immediate quote without asking for personal assistance through the company toll-free telephone number. This number remains in existence as an alternative to the new online system. The recent incentive for free shipping is still in effect and accessible online with each quote.
Additional online improvements to the website include more inventory choices for domestic and imported engines. Motors for Dodge, GMC, Honda and Toyota are now available for immediate purchase online. These preowned editions have gone through an inspection process to ensure that mileage is accurate and no internal or external defects exist prior to shipment.
These engines are now helping the company to provide a large resource for buyers on the Internet seeking an alternative to standard distribution.
About EnginesforSale.org
The EnginesforSale.org company frequently discounts the motors that are carried in the current inventory as an incentive to online buyers. Current engines and hard to locate versions now make up the majority of inventory offered to the public. Recent company changes to policies include better warranty protections as well as free shipping for domestic engine purchases. The EnginesforSale.org company constantly changes its policies and measures to provide better buying options for the public. The recently installed quotation system online is now one of the most used sections of the company website.