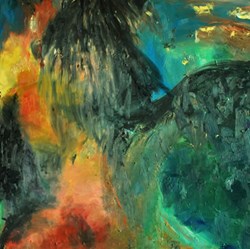 Energy Plan for the Florida Man is my way of cooling the Florida straits...
Miami, FL (PRWEB) March 30, 2013
George Magalios Studios is pleased to announce the creation of a new series of paintings by Jorge Griego entitled Energy Plan for the Florida Man. The new paintings explore the relationship between color and texture using a palette associated with the Sunshine State. The title of the series is derived from a 1974 series of performances by the German artist Joseph Beuys called "Energy Plan for the Western Man". Joseph Beuys proved to be one of the early influences of both George Magalios and Jorge Griego.
Mr. Griego's work is an amalgam of abstract expressionist techniques mixed with impressionistic sensibilities and the psycho-spiritual explorations of a nomad. A work of philosophy executed through painting as opposed to writing, Energy Plan for the Florida Man will be shown in the Fall of 2013 to coincide with the Miami Art Basel Art Fair in Miami Beach, Florida.
Jorge Griego is a painter who utilizes scraps of plywood and paints directly on the surfaces of his objects without the use of primer. Color seeps into the wood as it fuses together the picture with the support. He uses plywood as an homage to his father's background as a cabinet builder and explains : "I have great memories hanging around my dad's wood shop and being intrigued by his scraps left over from his jobs. Eventually I enjoyed using them for my earlier Energy Plan paintings."
For more information visit jorgegriego.net or groundpalette.net, the official website of George Magalios Studios.