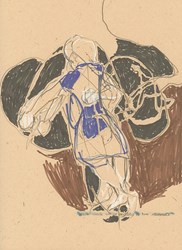 Serenity is the result of my meditations on the link between music and line.
Montreal, Quebec (PRWEB) March 31, 2013
George Magalios Studios is pleased to announce the creation of a new series of drawings entitled "Serenity". Serenity consists of 500 8 ½ x 11 inch works on paper executed in graphite, marker, and chalk. The drawings range from representational contour markings to loose abstractions of color and line. The work is considered one unique piece and is housed in a single archival box similar to the type used in rare-book collections at university libraries.
George Magalios explains the work: "When I was a graduate student I used to work in the archives of the Carnegie Mellon University Hunt Library. I was enchanted by the custom made rare book boxes made to protect a variety of objects so I decided to make a couple for a suite of drawings." Serenity is the product of more than 12 years of work and will be followed by "Tranquility".
George Magalios is an artist and entrepreneur from Montreal who uses drawings as unique works in themselves that exist in their own worlds separate from paintings and sculpture. "I draw to meditate, to explore my emotions and to facilitate my philosophical investigations into emotions and questions that words cannot find."
Not intended for exhibition, the drawings will remain part of the artist's collection. For more information visit groundpalette.net.