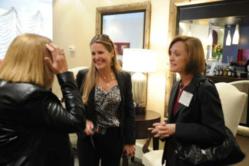 Atlanta, GA (PRWEB) March 13, 2013
The Georgia Tech Women Alumnae Network will host its second annual International Women's Day Forum on Saturday, March 23, 2013, focusing on the professional achievements and developing the professional potential of women. The event, which is open to the public, is themed "Women Inspiring Innovation."
The forum's keynote speaker will be Genevieve Bos, CEO of IdeaString and co-founder of PINK magazine. An interactive panel will follow to discuss the role women play in bringing innovation to both early-stage and mature organizations and to their communities. Panelists include: Stacey Abrams, COO of Nourish, Inc. and State Representative, Georgia House District 89; Kathy Harris, Senior Vice President, Sharecare, Inc.; Charlena Thorpe, Owner and Patent Attorney, The Law Office of Charlena Thorpe; and Jennifer Van Buskirk, Senior Vice President, New Distribution, Emerging Enterprises, AT&T Mobility. The panel will be moderated by Lisa Fey of Coca-Cola's Sales Capability Center of Excellence.
The half-day forum begins with breakfast and networking at 8:30 a.m. at the Georgia Tech Global Learning Center. The cost is $40 for single admission, $55 for dual admission, or $25 for students. To register, visit http://gtalumni.org/pages/wanevent.
International Women's Day (IWD) began 102 years ago, when more than 1 million men and women attended IWD rallies to campaign for women's rights to work, vote, hold public office and fight against discrimination. Currently, thousands of IWD events are held throughout the world on March 8. (http://www.internationalwomensday.com)
The Georgia Tech Women's Alumnae Network (WAN) is the premier networking group for Georgia Tech alumnae and part of the Georgia Tech Alumni Association. The WAN network brings together the best and brightest to network, encourage, inspire and inform. For more information about WAN, visit their website at http://gtalumni.org/pages/womenalumninetwork.
The Georgia Tech Alumni Association ® (GTAA), chartered in 1908, is an exclusive network of more than 135,000 alumni worldwide tied together by their experience at Georgia Tech ®. Since 1947, the GTAA's Roll Call program has raised money to financially support Tech's academic mission, a tradition that has transformed the Institute into the place it is today. Learn more about GTAA at gtalumni.org.
Contact: Lenor Bromberg, Event Co-Chair, Associate VP, KEA Group LLC, (404) 805-8244, lbromberg(at)keagroup(dot)com