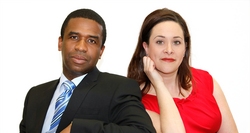 By moving to Cheam, we are able to harness our specialisations to better serve our clients in these areas. We are in fact launching our presence through a series of briefings and Knowledge Share events as part of the Budget overview.
Cheam (PRWeb UK) November 15, 2010
Germain Financial Associates, a member of The St. James's Place Partnership, the advisory channel for St. James's Place Wealth Management, has recently moved to new offices in Upper Mulgrave Road in Cheam, Surrey. The move comes as the company focuses on serving the local community and introduces new products and services that are well placed to cater for growing families and entrepreneurial men and women.
This move signifies an important milestone for Germain Financial Associates. Led by Stephen and Michelle Germain, Germain Financial Associates specialises in advising clients on creating and protecting a wealth strategy for both their personal and professional activities. At the core of their services is a distinctive approach to managing investments.
As Michelle Germain explained, "The recent turmoil in the financial markets has had a major impact on individuals, families and business owners. Changes in legislation and regulations surrounding tax, trusts, investments, including inheritance and estate planning has alarmed and worried many of our clients. There is a lot to take in, and as a layperson, it is virtually impossible to keep abreast with all the changes. This is where we believe we excel and are so different from other advisers. We believe in being available for our clients, and assisting them in deciphering these financial challenges. We pride ourselves on being approachable, and in our new offices, we are but a walking distance away, located at the heart of the Cheam community, right next to the train station. From Cheam, we are able to reach a larger audience of family and business owners. Speaking to us could not be easier."
Stephen Germain continued, "We believe we provide clarity in finance, supporting our clients' financial growth. Our clients turn to us to provide them with expert opinions and responsible advice. Through the St. James's Place Partnership, we are able to assist our clients on many levels. In fact, Michelle and I cover areas of specialisation that deal with Pensions, Business and Retirement Planning; Estate Planning services and Onshore Investment advice."
Germain Financial Associates and St. James's Place work on the basis that one adviser cannot know everything about everything. Both Michelle and Stephen are therefore committed to excelling and advising clients thoroughly in their specialist areas and call in specialists from the Partnership to manage all angles of a client's financial position in order to give the best possible advice.
Michelle continued: "By moving to Cheam, we are able to harness our specialisations to better serve our clients in these areas. We are in fact launching our presence through a series of briefings and Knowledge Share events as part of the Budget overview by the new government. These events will be held both here in Cheam and in select areas throughout Surrey."
Germain Financial Associates' new address is 14 Upper Mulgrave Road, Cheam, Surrey. SM2 7AZ. The main telephone number is 020 8770 0647 while the general email address is gfa@sjpp.co.uk. More details are available on http://www.germainfinancial.co.uk
Words: 491
Notes to Editors

Germain Financial Associates is a member of the St. James's Place Partnership, the advisory channel for St. James's Place Wealth Management which is authorised and regulated by the Financial Services Authority.
Spokespeople for comment include Michelle Germain Dip PFS and Stephen Germain, Partners and Directors of Germain Financial Associates.
The Germain Financial Associates comprehensive portfolio of financial services include :
-Long Term Care
-School Fees
-Improving Your Income
-Tax Planning – Year End
-Exit Strategy
-Generation 2 Generation
-Budget and Tax Changes
-Planning your Retirement – Today
-Lifetime Financial Plan
-Lifetime Cash-flow Forecast
-Women's Brunch
-Protection Your Wealth / Putting your House In Order
-Divorce
For more details, please visit http://www.germainfinancial.co.uk
###