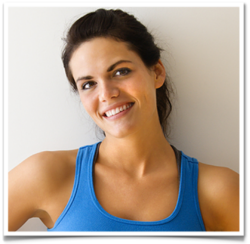 Zumba's a great workout if you love to dance and socialize.
Manhattan Beach, CA (PRWEB) May 25, 2012
GetFitDaily.com is one of the world's most visited Fitness Tips blogs. Offering daily tips and advice to women, information can be read directly from their blog, or via a daily digest email.
Today, Stacy Carlo at GetFitDaily published her latest post, titled "Zumba – It's Fun and Motivating But Can It Reshape Your Body?"
Fitness fans can access the new blog post here:
http://getfitdaily.com/zumba-its-fun-and-motivating-but-can-it-reshape-your-body/
In her latest blog post, Stacy introduces her readers to Zumba – a new dance craze which allows women to exercise and get inspiration in a group setting.
While it's fun, active and motivational, Stacy debates if Zumba is really as good as the gurus make out.
"The first and most obvious shortcoming is that it requires a certain amount of grace, confidence and rhythm in order to get the most out of the workout," Stacy says.
She admits that, lacking in dance talent herself, she would not be the first person to jump at the opportunity of partaking in Zumba.
The second shortcoming Stacy is exposes is the need for an instructor to be present in order for the workout to take place.
"You have to watch somebody else do it, then learn the steps and follow the instructor's lead. What if she's sick one day and cancels? Does that mean that you just missed your work out? It sure does," Stacy adds.
The final shortcoming Stacy discusses could be the most powerful. She discusses the need to devote lots of time (45-60 minutes) to each Zumba class, as well as pay for special clothes, class fees and gym memberships.
Concluding her thoughts on Zumba, Stacy believes that while it is not for everyone, Zumba is a great activity for those who enjoy dance and like to socialize.
"Since doing any kind of exercise is better than sitting on your duff doing nothing, it won't be a waste of time. However, if what you're really looking for is a serious routine that saves you time, maximizes your work out, and helps you burn calories for up to two days after you exercise, then H.I.I.T. may be just your cup of tea," she says.
Where can female fitness fans learn more? Fitness fans can get Fitness Tips by subscribing to GetFitDaily for free. Visit their daily tips website at GetFitDaily.com.
GetFitDaily (™) thinks this is important information for female fitness fans and asks them to Like our Page on Facebook to learn exclusive daily fitness and weight loss tips, tricks, and news about getting the most from your passion. "We'd appreciate your help in spreading the word amongst female fitness fans," says Stacy Carlo.