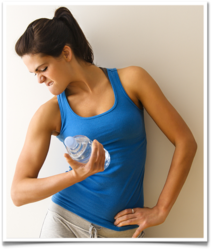 Vitamin C plays a really important role in breaking what I call the cortisol cycle.
Manhattan Beach, CA (PRWEB) June 08, 2012
GetFitDaily.com is one of the world's most visited Fitness Tips blogs. Offering daily tips and advice to women, information can be read directly from their blog, or via a daily digest email.
Today, Stacy Carlo at GetFitDaily published her latest post, titled "The Real Skinny on Vitamin C and Weight Loss"
Fitness fans can access the new blog post here:
http://getfitdaily.com/the-real-skinny-on-vitamin-c-and-weight-loss/
In her latest blog post, Stacy announces that, while many diets and weight loss supplements are only 'fads', the importance of Vitamin C is often understated.
"Vitamin C is a huge factor in losing body fat, especially fat around your tummy. Because Vitamin C has a large impact on many functions and systems, I like to call Vitamin C the wonder vitamin," she says.
Stacy makes it clear that the benefits of Vitamin C include improved cell growth, the warding off of disease and even reductions in the signs of aging.
However, Stacy says that she wants to place an important focus on two vital benefits of Vitamin C.
The first benefit is its ability to break the 'Cortisol Cycle'. Cortisol is responsible for telling the body to store nutrients at times of stress.
"Vitamin C actually reduces the effect of stress on your body. The less stress your body perceives, the less cortisol it releases into the bloodstream. The less cortisol that is released, the less new fat is stored on the body," she explains.
Stacy then outlines that L-carnitine is essential to enable stored fat to be turned back into energy. If her readers hadn't already guessed it by this point - L-carnitine is largely made out of Vitamin C.
However, while all of this weight loss is very beneficial, Stacy has some wise words of advice to conclude her latest blog post.
"If you're not working out, you may lose weight, but you'll also lose lean muscle tissue and end up looking deflated rather than slim. So get some interval training in, too," she says.
Where can female fitness fans learn more? Fitness fans can get Fitness Tips by subscribing to GetFitDaily for free. Visit their daily tips website at GetFitDaily.com.
GetFitDaily (™) thinks this is important information for female fitness fans and asks them to Like our Page on Facebook to learn exclusive daily fitness and weight loss tips, tricks, and news about getting the most from your passion. "We'd appreciate your help in spreading the word amongst female fitness fans," says Stacy Carlo.
Like this? Check out GetFitDaily's last article: Latest Post from Fitness Tips for Women Blog, GetFitDaily.com, Announces Possible New Way to Avoid Type 2 Diabetes