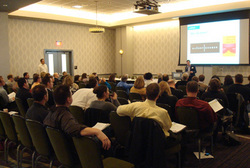 The event will be a great opportunity for business owners to learn about the free tools that the search engines provide, and ask questions directly to their reps.
Minneapolis, MN (PRWEB) April 15, 2010
Local University: Twin Cities will take place on May 13, 2010 at the Westin Edina Galleria. This event for small business owners will concentrate on the free resources and methods a small business can use to be better represented online.
The event is part of the national GetListed.org Local University series and will feature representatives from Google, Bing, and respected leaders of the local search field.
"Google, Bing, and many other recognizable online destinations offer free pages and tools that help small businesses get exposure on the internet, even if a business itself does not have a website. Using such resources is actually rather simple and a busy small business owner or manager can get some real exposure for their business online by doing so," explains Patrick Sexton who is a co-founder of GetListed.org, "this event will explore these and other resources available to small business owners. The goal of the conference is to provide business owners actionable advice which allows them to leave the event with a clear understanding of what they can do for the online presence of their business even if they have little or no budget for it."
Benjamin Pingel, a business manager who attended the last event said "I was completely new to these concepts, but they were well explained. It was very easy to go to the office afterward and implement everything discussed."
The event features two identical half-day sessions (8am - noon and 1pm - 5pm) on May 13th, 2010. Details can be found on the Twin Cities Local University website.
"We're excited that representatives from the Google Local Business Center and Bing Local Listing Center will again be joining us for the event, and that they see Local University as an important complement to their own efforts to reach out to small business owners." said David Mihm, co-founder of Getlisted.org Inc. when asked about the Google and Bing participation in the event.
Aaron Weiche, Vice President of Minneapolis area web design and internet marketing firm Five Technology, stated "It's no secret the importance of your business being visible online and in search engines. Local University provides real answers and best practices of internet marketing from national experts and Google and Bing employees themselves. Minnesota businesses should not miss this opportunity to understand succeeding online."
This event is part of a nationwide series of events which are organized by GetListed.org as a primer for business owners who wish to use the internet effectively to promote their business.
###