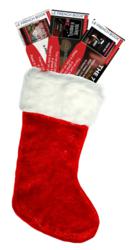 Today, e-books really are the perfect gift--they are easy, affordable and you can get all your shopping done ahead of time.
New York, New York (PRWEB) November 27, 2012
Today, everyone knows someone who reads e-books. Shoppers making their lists and checking it twice necessarily want to give somebody a great read. But just how does somebody give an e-book as a gift? Is it possible to make sure the e-book gifts get to the receivers at a specific time, like on Christmas morning, right after they opened up their new e-reading device or tablet? Le French Book, a digital-first publisher of great mysteries and thrillers from France, has come up with a simple five-step guide to gift great reads to loved ones and friends, and a special tip on turning them into real stocking stuffers.
1. It is essential to know where the person buys his or her ebooks, using any sleuthing technique normally employed to find out what kind of present to give them (i.e., asking spouses or kids). Chances are it is from one of the "big 4": Amazon (Kindle), Barnes & Noble (Nook), Apple iBooks (iPad, iPhone or iPod touch) or Kobobooks (Kobo).
2. On the website for Amazon, Barnes and Nobles or Kobo, shoppers can search for the book they want to offer. The note below addresses iBooks (Apple ways, as usual, are a little different).
Shortcut: Le French Book has made an easy-to-use list of links to all the major platforms for their mysteries, whodunits and thrillers set in France.
3. On the right-hand side of the book listing, depending on the bookseller, there is a link saying "Give as a gift," "Buy as gift" or "Send as gift." It's really that easy.
4. On the next page, the purchaser has to type in the name and email address of the person getting the gift. The giver adds his or her own name and a personal message and then chooses when they want this book to be delivered. It doesn't have to be right away. It could be on a birthday, or on Christmas morning, with all the shopping done well ahead of time.
5. All that's left is to pay for the book, through an account with the retailer, or with a credit card or a Paypal account on Kobo.
Special Christmas tip: It's simple to turn this e-book into a very real stocking stuffer. Le French Book provides easy-to-print bookmarks for each of their crime fiction titles. They can be printed on thick paper, print, cut and are ready for the stocking.
Note for Apple iBooks users: There is no easy way to give them a book directly for iBooks. It is possible to give a gift card that can be used to buy one or several books. On iTunes, on a computer, in the right-hand side column, there is a Buy iTunes Gifts button. There is an option to get an email or a print gift certificate for $10 or $50 by clicking on the corresponding "buy now" link. To give an iPad user a specific book, they need to install the corresponding free app for one of the other formats--Kindle, Nook or Kobo. Once they have done that, the previous steps apply.
About Le French Book
Le French Book (http://www.lefrenchbook.com) is a New York-based digital-first publisher specialized in great reads from France. It was founded in December 2011 because, as founder Anne Trager says, "The recent explosion in e-reader ownership provides a perfect medium to introduce readers to fantastic French authors." Its first list includes three acclaimed French crime fiction writers, with a legal procedural/psychological thriller that takes place in between Paris and rural France, a more classic whodunit set in French wine country, and an edge-of-your-seat police procedural set in Paris. The company's motto is "If we love it, we'll translated it."