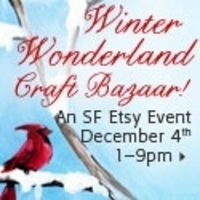 Holiday shopping is much more than a trip to the mall these days
San Francisco (Vocus) November 24, 2010
Urban Bazaar, San Francisco's newest handcrafted gift shop at 1371 9th Ave will host their Winter Wonderland Craft Bazaar on Saturday, December 4th from 1-9pm. The bazaar will showcase unique, affordable, handcrafted goods from 17 of the Bay Area's top craftspeople. Co-sponsored by the San Francisco Etsy Team, the Bazaar will brim with funky, inspired artwork.
"Holiday shopping is much more than a trip to the mall these days," said Brandi Chalker, co-founder of Urban Bazaar. "More people are asking for and seeking out gifts that are green, made locally by hand, and make them feel morally good to purchase and own."
Holiday shoppers increasingly shop at indie craft shows. The Winter Wonderland Craft Bazaar features a large, eclectic selection of handmade gifts at affordable prices in an intimate holiday setting. Items include wallets with narwhals, window mosaics, crafty cards, bike caps, and one of a kind jewelry pieces.
"What better way to shop than in the company of artists who make unique gifts while surrounded by twinkling lights, bundled up with a cookie and a warm drink in hand?" asked Briana Bers, co-founder of Urban Bazaar. "We will serve baked goods all day and host a warm Cocktail Hour from 6-9pm."
For more information about Urban Bazaar or the Winter Wonderland Craft Bazaar, contact Briana and Brandi at (415) 664-4422 or visit their website at: http://www.UrbanBazaarSF.com.
ABOUT URBAN BAZAAR
Urban Bazaar is an independent San Francisco gift shop specializing in Fair Trade and locally handmade crafts. Their mission is to provide customers with creative, high quality, handcrafted goods that are affordable, eye catching, ethically sourced, and eco-friendly. Located at 1371 9th Ave (between Judah and Irving Streets), hours are Tuesday-Saturday 11-7pm and Sunday 9:30-5pm, with extended holiday hours during the month of December.
# # #