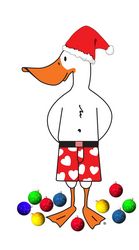 Customers love the novel selection at WebUndies.com. We have 100's of fun and festive lounge pants, boxers and pajamas for $35 and under. We also offer free shipping on order $75 and over.
Cranford, NJ (PRWEB) December 6, 2010
WebUndies.com (http://www.WebUndies.com), an Internet retailer of licensed character and novelty boxer shorts, underwear, t-shirts and pajamas, has a large selection of gifts - many under $35 - for everyone on your list. The company is also offering free shipping on orders $75 and free shipping to military addresses.
WebUndies.com stocks over 1,500 styles for men, women and children including popular product lines such as the Simpsons, Superman, Batman, Hello Kitty, SpongeBob Squarepants, Snoopy and Peanuts, and other fun characters.
Gift Ideas under $35
"WebUndies customers love our selection of novel holiday gifts," says Deborah Palacio, WebUndies.com managing partner. "We've stocked hundreds of fun and festive items and many of our sleepwear and underwear styles can be purchased for $35 and under. This year we're also offering matching holiday loungewear for the whole family - perfect for those Christmas morning photos."
It's a plaid, plaid world. Why not outfit the whole family in festive plaid flannel sleep pants? Add white tee-shirts, snap a few photos around the tree and you'll create Christmas memories that will last forever. WebUndies has red and black tartan sleep pants for $20 a pair, in sizes to fit adults and kids.
Holiday fun boxers. We all need a good laugh these days. Why not give the guy on your list a chuckle or two with our Naughty Santa or Naughty Nutcracker boxers ($13 each, sizes S-XL)? Check out all our holiday boxers for more great choices.
Polka dots for mom and daughter. Beautiful detailing makes our red and white polka dot sleep pants an extra special gift for mom and daughter, at just $23 a pair. They are comfy cotton, with a white satin tie and a waistband that can be flipped to show a contrasting black/white buffalo check pattern.
Warm one- and two-piece footie pajamas. What woman doesn't love cozy footie pjs on those snowy winter nights? We have loads of one-piece fleece footies in stock, including our popular Bright Smiley, Hello Kitty, Peanuts, and Rudolph the Red Nose Reindeer footies (all are $35.00, sizes S-XL). New this year! We have adorable Hello Kitty two-piece footies($35.00, sizes S-XL).
Perfect for gamers. With the new Tron movie due to be released this month, the video game buffs on your list will love Tron movie sleep pants and boxers. At $18 for the pants and $13 for the boxers, you can give both for under $35.
Stocking stuffers. Underwear makes a great stocking stuffer for everyone! Choose from Calvin Klein underwear and tees for boys and girls ($8-$10), Classic Cartoons undies for women ($3-$8.50) and Movie Favorites boxers and briefs for men ($7.50-$13). You can also shop the WebUndies Sale pages for more fun stocking stuffers at great savings.
Holiday shipping schedule
WebUndies.com receives shipments of new underwear, sleepwear and boxers every day and Palacio encourages shoppers to visit the site often for more gift ideas. However, Palacio cautions, "Don't wait too long to place your holiday order. We need to receive orders by Monday, December 20 to ship via UPS 3-day in time for Christmas Eve arrival."
Palacio notes that WebUndies.com is also offering an extended holiday return policy. For the detailed shipping schedule and extended holiday return policy, check the WebUndies.com home page.
About WebUndies.com
WebUndies.com went online in 1999 as a specialty retailer focusing on licensed novelty boxer shorts with about 15 designs. Since then the company's product offerings have expanded and now exceed 1,500 styles. WebUndies.com also stocks lounge pants, robes and t-shirts for men; boxer shorts, lounge pants and pajamas for children; and panties, pajamas and lounge pants for women. The company's website is WebUndies.com and advance notice of new products and specials is available on Twitter @webundies.
WebUndies.com has been featured on CNN Headline News, MSNBC.com, and The Howard Stern Show; as well as Playboy magazine, Cosmopolitan Magazine, Maxim Magazine, US Weekly, Star, Rolling Stone, Men's Journal, and many other regional and international publications. The company also gets frequent mentions in blogs for unique and affordable products.
The company also offers affordable custom printing services for customers who are running fundraisers or events. WebUndies.com can imprint boxers, lounge pants, blankets, hospital scrubs and more. Bulk pricing is available for orders of 36 units or more. This option is very popular for Boxer Bingo events held as part of high school "Project Graduation".
###