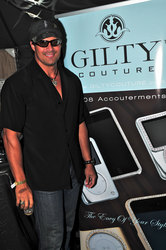 Gilty Couture cases have created a new standard for quality and redefined expectations for fashion in the mobile device category
Beverly Hills, CA (PRWEB) July 23, 2008
One of the Major highlights of the ESPY Pre Party that took place to benefit the Sports Dream Foundation at the Playboy Mansion was certainly Gilty Couture's first public unveiling of its hottest accoutrements for the new Apple iPhone 3G. Gilty Couture also displayed its latest for the current iPod lineup.
Behind the velvet rope, you could find every top Sports figure in the industry. This included but certainly was not limited to: NBA MV+P, Ray Allen, #1 draft pick Greg Oden, Carmelo Anthony, Hall of Famer Marcus Allen, the ESPN host Trey Wingo, Adrian Petersen, Sean Merriam, Ray Lewis, Braylon Edwards, Adrian Peterson, Sasha Vujacic, and many others. Of course a few non-sports figures snuck in there as well, like Bill Maher. Michael Vartan, Mekhi Pfeiffer, and a few playmates slipped in too…
Favorite among the celebrities was Gilty Couture's iPhone accoutrements, which offer luxurious designs that include Swarovski crystals combined with gold, silver and chromium metal selections. Each design is functional as well as beautiful, protecting the devices inside with laser engraved EVA foam while still giving users full access to the device.
"Gilty Couture cases have created a new standard for quality and redefined expectations for fashion in the mobile device category," says John Hubbs, CEO of Gilty Couture. "The succulent rare metal designs, attention to detail and quality craftsmanship of Gilty Couture's hand finished pieces really stands out from the status quo mass market rubber and plastic offerings of large manufacturers. We've designed our pieces to compliment Apple's devices rather than detract from them."
Of course this event had some ancillary excitement too, like the Playboy Bunnies swimming in the pool and the Poker Tournament, but interestingly enough everyone wanted to deck out their iPhone and iPod to show off during the party.
As always, this event had an element of charity, with money going back to the Sports Dream Foundation.
Pricing and Availability
Gilty Couture's iPhone and iPod accoutrements are available for prices ranging from $55 to $300. They can be found at fine retail locations around the world including Apple Japan, Harrods, Selfridges & Co. in London, MacWay in France, Design Group in Hong Kong, Gravis in Berlin, Duty Free in Thailand and even The Venetian casino in Macau, as well as online at the Gilty Couture Boutique (shop.giltycouture.com), and at Amazon.com. They come packaged in Gilty Couture's signature Wardrobe Box™ and include a micro polish storage bag.
About Gilty Couture
Gilty Couture designs apparel, fashion and lifestyle accessories. The brand is timely, fun, glamorous, elegant and sexy. Consumers are tired of boring and want a change. Gilty Couture is their answer. With collections that include rare metals and Swarovski Crystals, Gilty Couture is sure to please the individual that demands luxury as well as style and function. Learn more at: http://www.giltycouture.com or click here for Gilty Couture images and press materials.
Apple, iPhone and iPod are registered trademarks of Apple Corporation. Swarovski is a registered trademark of Swarovski AG. Gilty Couture and Gilty Couture Wardrobe Box are trademarks of Metallo Design LLC. Other company and product names may be trademarks of their respective owners.
# # #