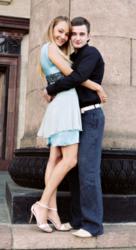 He got to the top of the pick up world and then decided that he would rather meaningful long term relationships with truly exceptional women. And now he is sharing his wisdom and methods with the world
Los Angeles, CA (PRWEB) September 13, 2012
"Girlfriend In A Week was just publicly released today, and already the internet is buzzing with guys eager to get this new training course," reports Clint Johnson of PUABooks.net. "This new program is Jonathan's first big time product launch in quite a while, and his massive fan base is extremely excited to be able to get their hands on Girlfriend In A Week."
Jonathan Green has been a prominent figure in the dating advice community for the past five years. He attained cult hero status after taking part in "Project Rockstar" where he lived with the famous Mystery Method crew in London for eight weeks. Following his rise to fame, Green taught pick up artist boot-camps in London were he was widely considered the England's #1 independent pick up instructor and worked under the nickname London Paladin. However, Green soon decided that he didn't want to be a pick up artist or "PUA" for the rest of his life.
"Girlfriend In A Week is a prime example up the evolution that is happening within the pick up artist community," says Johnson. "Guys are realizing that simply picking up random women for meaningless physical encounters gets old, and it's really not a fulfilling lifestyle in the long run. Jonathan Green exemplifies this. He got to the top of the pick up world and then decided that he would rather meaningful long term relationships with truly exceptional women. And now he is sharing his wisdom and methods with the world."
Earlier this year Green released Girl Gets Ring a program he co-created with T.W. Jackson which went on to become extremely popular with women seeking deeper the committed relationships with the men in their lives.
"When I reviewed Jonathan's program, the one thing that stood out to me was that this is a guy who really understands women" says Johnson. "I've reviewed a number of these sorts of 'succeed with women guides' and on I find that many of the authors have a sort of immature approach to women and dating. Jonathan on the other hand has a deep love and appreciation for women and I feel that this program is going to help a lot of guys not only to greatly improve their skills with women, but to actually get great girlfriends. "
Girlfriend In A Week is available digitally online. The program includes daily video training modules as well as PDF guides, and MP3s, as well as several bonus trainings.
Those interested can purchase the program at a special launch price - click here for instant access.
Those interested in more information can visit Clint Johnson's website: http://puabooks.net/girlfriend-in-a-week-review-jonathan-green/ for a full Girlfriend In A Week review.