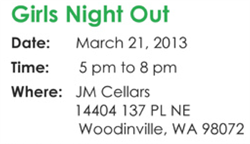 Seattle, WA (PRWEB) March 11, 2013
The Chris Elliott Fund (CEF) is pleased to announce the Girls Night Out benefit event on Thursday March 21st from 5-8pm, in Woodinville, Washington. The event is in partnership with glassybaby, Woodinville-based winery JM Cellars, and Butler Valet. All of the night's wine and glassybaby proceeds will go to the Chris Elliott Fund. Of course, men are invited and welcome too!
The night out will include new release wines available for sale and by the glass. Melissa Norris will be serving light appetizers and glassybaby will be lighting the night with hundreds of handmade candle holders available for sale. Butler Valet will also be offering shuttle service from Kamiakin Middle School. More information can be found through the event invitation page or the Chris Elliott Fund website.
The event will also be a night to honor those who are fighting or have fought brain cancer or a brain tumor. To honor an individual at the event see the guest list or email WeCare(at)ChrisElliottFund(dot)org
For those who cannot make the event, glassybaby has offered a giving code to use following the week of the Girls Night Out event. When ordering online at http://www.glassybaby.com use the giving code: ELLIOTT to ensure 10% of online purchases go directly to the Chris Elliott Fund. The code can be used beginning Thursday March 22nd through Friday March 29th.
About the Chris Elliott Fund:
The Chris Elliott Fund (CEF) is a patient advocacy organization and national 501(c)(3) non-profit with corporate offices in Seattle, Washington, with goals to end brain cancer through education, advocacy, awareness and support. Established in 2002, CEF has grown to provide support nationally for brain cancer and brain tumor patients seeking guidance, advice, and assistance to demystify finding the absolute best course of treatment for their brain cancer or brain tumor. . The organization and its advocates, on average, serve 500-800 patients and caregivers per month, free of charge. If we can help, please contact us at WeCare(at)EndBrainCancer(dot)com and visit our website, link below.
About Brain Cancer:
More than 22,000 Americans are diagnosed with a malignant brain cancer every year. Brain cancer and brain tumors do not discriminate. Brain cancer is the leading cause of cancer-related deaths for children under 19. About 60 to 70 percent of these cancers are glioblastoma (GBM) – the deadliest form of brain cancer with a life expectancy after diagnosis of only 12 to 14 months.