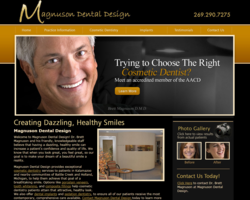 The AACD and I remain dedicated to helping these patients reclaim their smiles, their self-esteem, and ultimately, their lives.
Kalamazoo, MI (PRWEB) April 20, 2011
According to the American Psychological Association, nearly one in three adult women experience at least one domestic assault by a partner during adulthood[1], which translates into approximately 4 million American women who experience domestic violence during a 12-month period. As a dentist in Kalamazoo, MI, Brett Magnuson, DDS performs a spectrum of procedures designed to give his patients a fresh start in life. In cooperation with the American Academy of Cosmetic Dentistry (AACD), Dr. Magnuson dedicates his time and cosmetic dentistry expertise to the Give Back a Smile (GBAS) program, which provides free consultations and dental treatments for survivors of domestic violence.
The need is great for those affected by domestic violence, says Dr. Magnuson: "Through the Give Back a Smile program, AACD members like me assist those in need by treating any dental injuries sustained from domestic violence. The AACD and I remain dedicated to helping these patients reclaim their smiles, their self-esteem, and ultimately, their lives."
About Give Back a Smile
Victims of domestic violence who have suffered dental injuries can contact GBAS toll-free at (800) 773-GBAS (4227), or visit http://www.givebackasmile.com for more information. Survivors of domestic violence must make an appointment with a counselor, domestic violence advocate, social worker, or therapist to complete the advocate section of the GBAS application. GBAS then reviews the application and turns it over to the dentists. If eligible, the AACD connects the survivor with a local GBAS volunteer who provides treatment at no charge to the recipient.
About Dr. Magnuson
Brett Magnuson, DDS earned his medical degree from the Southern Illinois University School of Dental Medicine. He is an accredited dentist with the AACD, serving as both an Accreditation Examiner for the AACD, and a board member for the American Board of Cosmetic Dentistry. Dr. Magnuson was also named one of America's Top Dentists by the Consumer's Research Council. He is a member of the American Dental Association, the American Academy of General Dentistry, the International Congress of Implantologists, and the Michigan Dental Society.
Magnuson Dental Design is located at 2901 S. Westnedge Ave. in Kalamazoo, MI 49008, and can be reached at (269) 290-7275, or found online at http://www.michiganbeautifulsmiles.com, or the Magnuson Dental Design Facebook page.
[1] American Psychological Association. Facts About Family Violence. American Psychological Association Web Site.
###