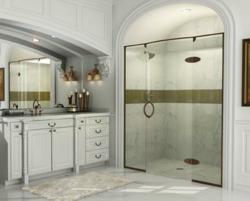 Glass shower doors offer a sleek, sophisticated look, and they add value to the home, it is real a long-term investment.
(PRWEB) September 10, 2012
HomeThangs.com – the Home Improvement Super Store has made their goal to deliver the right product to the consumer, with that in mind, shopping and home design tips, as well as special product selections are being introduced.
Glass shower doors offer a sleek, sophisticated look, and they add value to the home, it is real a long-term investment. Depending on the scope of the project, it can even be worth replacing an existing shower door to update the look.
HomeThangs.com introduced a guide to sleek modern glass shower doors, as well as a selection of the premium quality stylish shower doors and enclosures to complete the most sophisticated bathroom look.
1. Home improvement shows will show huge, luxurious dream bathrooms that are tiled head to toe and outfitted with every designer perk one can imagine. And admittedly brands like Roda by Basco cater to magazine-quality bathrooms. For example, luscious Preceria Shower Door, done in oil rubbed bronze and sealing off a more than slightly palace-looking shower enclosure. But even if not planning on building a bathroom suited for a Raj, stylish shower doors can still have a big impact.
2. Vigo offers sleek modern glass shower enclosure designs that are stunning in their simplicity for sensible, stylish bathroom remodels. For example, Rectangular Shower Enclosure sits on a plain white pre-fab shower floor, but offers a spectacular, seamless glass finish that can keep a bathroom from feeling closed off, and add a little more light to the shower. Plus, having a pre-made shower floor rather than elaborate tile or stonework can dramatically cut the cost of remodel while still offering a polished magazine-quality finish.
3. The more elaborate the tile work design, the more strongly it is recommended to consider frameless shower doors. For example, something like the Dresden frameless shower enclosure from Roda by Basco will show off the tile work, and even if protruding into the center of the room, it will give the bathroom a barrier-free feeling that can make even a very large shower less dominant in a big bathroom. Frameless shower doors are also one of the current "it" items for the bathroom. That means that when selling a home, not only will the bathroom show well, but it also offers a major design talking point that will indicate just how up to date the bathroom is.
4. More than that, of course, is the fact that showers with frameless glass doors are really nice to use. In a small, enclosed shower, short of installing water proof lighting, all the natural outside light is important to get. So while having frameless shower doors in an enclosed shower might not offer the dramatic, wide-open feel of that Dresden shower, it will prevent a smaller shower from feeling closed in too dark. Plus, something like the Purist frameless shower door from Kohler will leave the shower looking more like a nook or enclave, rather than something tucked away and hidden.
5. Shower doors can do wonders for a shower/tub combination, too. Whether replacing an old shower curtain or even an existing shower door, the clean, clear glass of a brand new door can make the bathroom seem dramatic and clean in a way that textured or frosted glass or acrylic doors don't. Of course, if privacy is an issue, there are textured versions of these doors. For example, Finesse tub door by Sterling offers a stark clean look.
6. Most glass shower doors require professional (or at least experienced DIY) ability, but Sterling has started offering a select line of "quick install" shower doors, like the Finesse Door for shower/tub combinations. These shower doors can be assembled with an alan wrench in a matter of minutes. Using tension rods, the rectangular frame locks in place and the two sliding doors hang easily from the top bar. Add a bead of caulking all around the edges for waterproofing, and it's done. For those looking for a fast and easy bathroom update, this is a great way to make a huge difference in the appearance of the bathroom without too much time, effort, or money invested.
HomeThangs.com is not only a home improvement superstore, it also provides expert design tips and a comprehensive shopping guide, taking the ideas from professional interior designers, and offering tips to the consumers on how to pick the products to best suit their needs.