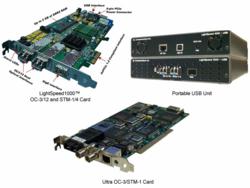 LightSpeed1000™ is used for protocol analysis of ATM, PoS, Raw unchannelized and unframed data, and Ethernet traffic at IP, UDP, and higher layers. Ultra OC-3 / STM-1 card (PCI) helps analyzing, testing, simulating and monitoring OC-3 and STS-1 signals.
Gaithersburg, Maryland, (PRWEB) March 26, 2013
Gaithersburg, Maryland, USA -March 25 2013- GL Communications Inc. a leader in providing PC-based test, analysis and simulation products and consulting services to the worldwide telecommunications industry, announced today its latest OC3-12 STM1-4 Analysis and Emulation equipment.
Speaking to media persons, Mr. Jagdish Vadalia Senior Manager for product development of the company said, " Voice, data, and video traffic is exploding as smartphones, IP TV, video streaming, and "cloud" based services takeoff. A majority of the backbone transport for these applications continues to be SONET and SDH optical transmission networks. A dominant protocol for IP transport is PoS (Packet over SONET) and another is ATM (Asynchronous Transfer Mode). Both schemes are packet based, with ATM using fixed size packets of 53 bytes called "cells", and PoS using variable packet sizes closely matching to Ethernet frames."
He explained, "GL's LightSpeed1000™ hardware platform (PCIe Card and USB Pod) is capable of OC-3/12 and STM-1/4 wire-speed processing on dual optical ports for functions such as wire-speed recording and wire-speed playback of ATM, PoS, RAW, and Ethernet Traffic. It comes with software for overall monitoring, BERT, emulation, and protocol analysis with a price tag that compares very favorably with similar test instruments at three times the price. Normally, the LightSpeed1000™ is used for protocol analysis of ATM, PoS, Raw unchannelized and unframed data, and Ethernet traffic at IP, UDP, and higher layers.
The hardware can be easily configured / programmed for delaying of ATM Cells or PPP packets.The card's multiple connectivity using PCIe, Gigabit Ethernet (GigE), USB 2.0 and onboard DDR2 memory makes it suitable for various applications.
USB 2.0 interface is used to connect with a Notebook PC, Ethernet port for testing BER / RFC2544, SONET and Ethernet bridge, and so on. The analyzer card is built upon FPGA technology to upgrade it in the field. A unique feature of the card is the capability to capture, transmit and process at wirespeed to/from applications and hard disk on all interfaces. API Toolkit allows user to develop specialized applications."
Mr.Vadalia further added, "GL's other Ultra OC-3 / STM-1 card (PCI) plugs into a PC expansion slot for analyzing, testing, simulating, and monitoring OC-3 and STS-1 signals. The Ultra OC-3 / STM-1 card may be used in conjunction with GL's Ultra T1 Card, Ultra E1 Card and Ultra T3 Card in the same PC to provide a complete OC-3 / STM-1, STS-1/STM-0, DS3, DS1, E1 and DS0 testing solution."
About GL Communications Inc.,
Founded in 1986, GL Communications Inc. is a leading supplier of test, monitoring, and analysis equipment for TDM, Wireless, IP and VoIP networks. Unlike conventional test equipment, GL's test platforms provide visualization, capture, storage, and convenient features like portability, remotability, and scripting
GL Communications has over the years worked with major telecom equipment vendors (EVs) and system integrators to meet the testing requirements arising at various stages of telecommunications product development life cycle.
With its proven expertise of over 25 years, GL has a comprehensive suite of telecom testing solutions to verify and ensure 'quality and reliability' of variety of telecom networks including Wireless, and high-speed fiber optic lines.
GL's test tools range from simple PC-based software test tool to all-encompassing hardware units with futuristic expansion capabilities. GL's test solutions cover wide array of networks – 4G (LTE), 3G, IP, Ethernet, T1, T3, E1, E3, OC-3/STM-1, OC-12/STM-4, and traditional PSTN networks.
GL's tools are widely used by the telecommunication industry for conformance testing, automated stress/load testing, performance testing, remote accessibility, centralized web-based control and analysis, fault testing and analysis, and customized testing.