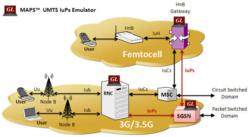 MAPS™ UMTS IuPS Interface Emulator can simulate RNC (Radio Network Controller), and 3G SGSN (3G Serving GPRS Support Node) by generating RANAP and DTAP signaling messages over SCTP as Transport layer in an IP network as defined by 3GPP standards.
Gaithersburg, Maryland (PRWEB) March 22, 2013
GL Communications Inc. announced today the release of its latest product MAPS™ UMTS IuPS Interface Emulator software.
Speaking to reporters, Mr. Karthik Ramalingam, Senior Manager for product development of the company said, "UMTS", or Universal Mobile Telecommunications System is a 3rd generation mobile technology – evolved from GSM technology. It uses W-CDMA (Wideband Code Division Multiple Access) radio access. With increased spectral efficiency and high bandwidth, UMTS can support broadband data, voice, and video. The underlying transport for UMTS in the core network can be Asynchronous Transfer Mode (ATM) or IP. UMTS supports integrated services such as multimedia and global roaming to mobile users."
He added, "SGSN manages mobile location whether within the carrier's network or roaming outside. Once a user turns on his or her mobile, a new IP address gets assigned and IP connectivity is available with quality of service (bit rate allocation) based on subscription, and tunnels are created for mobile flows to/from that mobile. These data tunnels carry encapsulated traffic such as http, ftp, email, etc. SMS may also be carried by the signaling plane to/from the mobile. IuPS emulation and analysis can be very important in the design, verification, and troubleshooting of a carrier's mobile data network."
Mr. Ramalingam further added, "GL's Message Automation & Protocol Simulation (MAPS™), is a protocol simulation and conformance test tool that supports a variety of protocols such as SIP, MEGACO, ISDN, SS7, GSM, LTE, and many other TDM, IP, and Wireless protocols.
MAPS™ has been enhanced for testing UMTS IuPS interface. It can simulate RNC (Radio Network Controller), and 3G SGSN (3G Serving GPRS Support Node) by generating RANAP and DTAP signaling messages over SCTP as Transport layer in an IP network as defined by 3GPP standards. MAPS™ provides users the unlimited ability to edit messages and control scenarios (message sequences). "Message sequences" are generated through scripts. "Messages" are created using message templates."
Main Features
·Simulates RNC and SGSN entities
·Generates and supports all Mobility Management, Session Management RANAP and DTAP messages
·User controlled access to RANAP and DTAP messages
·Ready scripts for Routing Area Updating, GPRS Attach, and Detach procedures for quick testing
·Supports Authentication, TMSI Reallocation, Encryption, and other optional procedures
·Supports mobile traffic simulation with additional licenses
·Provides fault insertion and erroneous call flows testing capability.
·Impairments can be applied to messages to simulate error conditions
·Supports customization of call flows and message templates using Script editor and Message editor.
·Supports scripted call generation and automated call reception.
·Provides detail protocol trace with full message decoding and graphical ladder diagrams of call flow with time stamp
·Call flow graph allows to easily verify the messages exchanged with DUT
·Displays call status, results, call information, total iterations to be done, and completed iterations
·Script based and protocol independent software architecture.
·Provides call statistics and associated captured events and error events during call simulation
About GL Communications Inc.,
Founded in 1986, GL Communications Inc. is a leading supplier of test, monitoring, and analysis equipment for TDM, Wireless, IP and VoIP networks. Unlike conventional test equipment, GL's test platforms provide visualization, capture, storage, and convenient features like portability, remotability, and scripting
GL Communications has over the years worked with major telecom equipment vendors (EVs) and system integrators to meet the testing requirements arising at various stages of telecommunications product development life cycle.
With its proven expertise of over 25 years, GL has a comprehensive suite of telecom testing solutions to verify and ensure 'quality and reliability' of variety of telecom networks including Wireless, and high-speed fiber optic lines.
GL's test tools range from simple PC-based software test tool to all-encompassing hardware units with futuristic expansion capabilities. GL's test solutions cover wide array of networks – 4G (LTE), 3G, IP, Ethernet, T1, T3, E1, E3, OC-3/STM-1, OC-12/STM-4, and traditional PSTN networks.
GL's tools are widely used by the telecommunication industry for conformance testing, automated stress/load testing, performance testing, remote accessibility, centralized web-based control and analysis, fault testing and analysis, and customized testing.