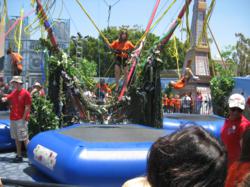 Still searching for an affordable summer day camp where the kids can get both fun and enrichment? "A Summer to Remember" at Salem Lutheran offers it all!
Glendale, CA (PRWEB) April 29, 2013
Still deciding where the kids will spend their days during summer vacation?
For parents looking for a fun-filled and enrichment centered Glendale summer camp, Salem Lutheran School announces it still has spaces available in its 2013 summer program, offering a variety of recreational and educational activities for children ages 5 - 12.
This year's summer program will be held from Monday, June 10 thru Friday, August 16 (excluding holidays) and each week will feature: two exciting field trips; an ice cream trip; reading, math, sports and computer clubs; a huge castle inflatable jumper; aquatic activities; movie and park days; arts and crafts and vacation Bible school.
Field trips include outing to the California Science Center and IMAX, Six Flags amusement park, Knott's Berry Farm, Soak City and The Aquarium of the Pacific, to name a few.
Students attending the summer program will need to provide their own lunch daily (including field trip days). On In & Out Burger trip days, students should bring lunch money.
The Glendale summer camp at Salem Lutheran will be held Monday thru Friday from 7:00 am to 6:00 pm to accommodate the schedules of working parents. The fee per week is $230.
For more information or to sign up for the exciting and affordable 2013 "Summer to Remember" at Salem Lutheran School, please visit: http://www.salemlutheranglendaleschool.org/summer_program_2013 or call (818) 243-8264.
About Salem Lutheran School:
Blue Ribbon-winning Salem Lutheran School in Glendale, California serves students from junior kindergarten through sixth grade, providing a rigorous academic experience while emphasizing Jesus Christ as the foundation of their lives.
Salem Lutheran School was established by Salem Lutheran Church in 1948 as a ministry of the congregation to the community. Today, as an active member of the Evangelical Lutheran Education Association, we serve not only our congregation but also the greater Glendale community with our rigorous academics and fine Christian education. Our program includes computer science, art, music, choir, chapel, physical education and Spanish language instruction.