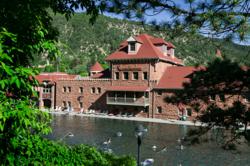 It's a celebration year at Glenwood Hot Springs; you don't turn 125 every day
Glenwood Springs, Colo. (PRWEB) March 29, 2013
Glenwood Hot Springs is celebrating a big birthday: 125 years in 2013! To observe the occasion, the landmark Colorado resort has created a birthday celebration that includes party favors for all its guests through the end of 2013. Specials include discounted rates at Glenwood Hot Springs Lodge, reduced pool admission prices, historically themed events, the crowning of a queen, music, entertainment, cake, ice cream and much more.
"It's a celebration year at Glenwood Hot Springs; you don't turn 125 every day," said Jeremy Gilley, director of sales and revenue for Glenwood Hot Springs and Spa of the Rockies. "Our birthday promotion for guests to receive free admission on their personal birthdays is already in full swing, and we have much more planned, especially in the next couple of months."
Glenwood Hot Springs began its year of celebration with its birthday promotion, a special that lets guests celebrate their personal birthdays with free pool admission. Guests may present a driver's license, a state-issued ID, a passport or a copy of a birth certificate at the pool admission desk to enjoy a celebratory splash, courtesy of Glenwood Hot Springs. The birthday promotion runs through the end of 2013.
Beginning in April, guests are invited to share their favorite Glenwood Hot Springs memories via "Tell Us Your Story," a new page on the Glenwood Hot Springs website. Acting as virtual scrapbookers, guests are invited to include a brief description of their hot springs memories, which can be as recent as yesterday or as distant as a decades-old childhood recollection. Adding photos, especially historical ones, is highly encouraged.
The landmark resort will celebrate its official birthday on Saturday, May 18, with a party that will stretch all day, from opening time at 9 a.m. to closing time at 10 p.m. Throughout the day, guests will receive one pool admission for the nostalgic price of $1.25 with the purchase of every full-price pool admission (discount applies to the lowest priced admission), and the first 500 families to arrive will take home goody bags filled with an assortment of Glenwood Hot Springs gear! The resort will also be hosting a number of events and activities throughout the day, including the 125 Years of the Bathing Suit Fashion Show, featuring historical swimwear; a rooftop beach ball drop with 1,000 colorful balls; and an appearance from the likeness of President Teddy Roosevelt, who will be present for photos and storytelling. In the evening, there will be music poolside and an outdoor movie after dark.
Though the official celebration day is May 18, guests can take advantage of retro-priced lodging the entire weekend, May 17-19, by staying at the newly remodeled Glenwood Hot Springs Lodge for only $125 per night with unlimited pool admission and complimentary hot breakfast served poolside at the Grill.
In June, Glenwood Hot Springs will join the spectacle of events that is Strawberry Days – the oldest, continuously held civic celebration west of the Mississippi. The pool's still top-secret float entry will no doubt commemorate the resort's 125 years in style. In conjunction with the annual festival, the crowning of Miss Strawberry Days will return to its original venue at Glenwood Hot Springs Pool.
Officially, the pool opened to the public on July 4, 1888, so on July 4, 2013, Glenwood Hot Springs will celebrate both the nation's independence and its actual 125th birthday. Guests can look forward to old-fashioned Americana fun and plenty of birthday cake for all.
Join in Glenwood Hot Springs' 125th birthday celebration! Find out how at http://www.hotspringspool.com.
About Glenwood Hot Springs
Glenwood Hot Springs is a 125-year-old Colorado landmark resort located along I-70 at Glenwood Springs, approximately 165 miles west of Denver and 90 miles east of Grand Junction. Famous for its enormous hot springs pools, other amenities include the Spa of the Rockies, the Glenwood Hot Springs Lodge, an athletic club, a restaurant open for breakfast and lunch, a retail store specializing in swimwear and a miniature golf course, open seasonally. For more information, including press releases, a press kit, photos and a live web camera, please visit http://www.hotspringspool.com/misc/press-room or call 800-537-SWIM (7946) or 970-947-2955.
Media Contact:
Jeremy Gilley, Director of Sales and Revenue
Glenwood Hot Springs/Spa of the Rockies
970-945-3324
jgilley(at)hotspringspool(dot)com
or
Vicky Nash
Resort Trends, Inc. – media communications for the travel & tourism industry
970-948-4923
pr(at)hotspringspool(dot)com