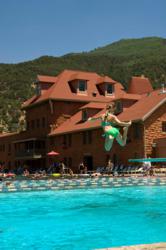 Our 125th anniversary is a momentous occasion that we are elated to share with our guests and the community
Glenwood Springs, Colo. (PRWEB) March 04, 2013
Happy Birthday! For Glenwood Hot Springs, which officially turns 125 on July 4, 2013, its quasquicentennial anniversary is cause for celebration. The hot springs resort has a full calendar of events and activities planned to commemorate the upcoming occasion. To commence the festivities, Glenwood Hot Springs will be honoring the birthdays of guests who visit on their personal birthdays with free pool admission.
Beginning on March 1 and continuing through the end of 2013, guests at Glenwood Hot Springs will get into the hot springs pool for free on their birthday. They will need to bring a valid state-issued I.D., driver's license, passport, or a copy of their birth certificate to receive free admission to the pool.
"Our 125th anniversary is a momentous occasion that we are elated to share with our guests and the community," said Jeremy Gilley, director of sales and revenue for Glenwood Hot Springs and Spa of the Rockies. "Our birthday promotion is a fun way to personalize the event, and with spring break upon us we hope a large number of our guests can participate."
In addition to the birthday celebration, Glenwood Hot Springs is preparing for spring break and the many visitors who take a mini vacation from school and work to relax with family and friends. The Glenwood Hot Springs Lodge is offering spring break specials and encourages guests to book reservations early either via the website or by phone at 800-537-7946. For those who want to unwind with a massage or body treatment at the Spa of the Rockies, advance booking is also recommended during this traditionally busy time. To schedule a spa treatment, please call the Spa of the Rockies at 970-947-3331.
While the Glenwood Hot Springs birthday promotion is the first event to kick off months of festivities, it is just the beginning. An official ribbon-cutting ceremony is scheduled for May. Highlights will include live music, actors portraying historical figures like Teddy Roosevelt, a fashion show featuring historical swimwear and dress styles, the debut of fun photo-ops including "put-your-face-here" cutouts made from historical photographs and much more. On July 4, free ice cream and cake will be served to Glenwood Hot Springs guests.
Other celebration highlights will feature property-wide specials: discounted rates at the Glenwood Hot Springs Lodge, reduced rates for pool admission and Spa of the Rockies and Sport Shop specials. For the most up-to-date details, like the Glenwood Hot Springs Facebook page. http://www.facebook.com/GlenwoodHotSprings
About Glenwood Hot Springs
Glenwood Hot Springs is a 125-year-old Colorado landmark resort located along I-70 at Glenwood Springs, approximately 165 miles west of Denver and 90 miles east of Grand Junction. Famous for its enormous hot springs pools, other amenities include the Spa of the Rockies, the Glenwood Hot Springs Lodge, an athletic club, a restaurant open for breakfast and lunch, a retail store specializing in swimwear and a miniature golf course open seasonally. For more information, including press releases, a press kit, photos and a live web camera, please visit http://www.hotspringspool.com/misc/press-room or call 800-537-SWIM (7946) or 970-947-2955.
Media Contact:
Jeremy Gilley, Director of Sales and Revenue
Glenwood Hot Springs/Spa of the Rockies
970-945-3324
jgilley (at) hotspringspool (dot) com
or
Vicky Nash
Resort Trends, Inc. – media communications for the travel & tourism industry
970-948-4923
pr (at) hotspringspool (dot) com