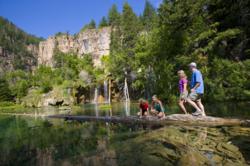 Three days provides visitors time to experience many of the activities and attractions that put Glenwood Springs on the 2013 Rand McNally Road Atlas map
Glenwood Springs, Colo. (PRWEB) March 14, 2013
Surrounded by mountains and home to a canyon, two rivers, hot springs and caves, it's no wonder USA Today and Rand McNally named Glenwood Springs America's Most Fun Town. With so many options, the decision about what to do first or next can be a tough one. With that in mind, the Glenwood Springs Chamber Resort Association has created a new three-day itinerary to help travelers make the most of their Glenwood Springs getaway.
"Visitors can be overwhelmed by all the choices available; our new three-day Glenwood Springs itinerary helps them sort out options and select the activities that they like best," said Lisa Langer, vice president of tourism marketing for the Glenwood Springs Chamber Resort Association. "Three days provides visitors time to experience many of the activities and attractions that put Glenwood Springs on the 2013 Rand McNally Road Atlas map."
Day 1 begins with a thorough exploration of Glenwood Canyon. Rent a bike and begin pedaling along the Glenwood Canyon Recreation Path, which follows the Colorado River through Glenwood Canyon. Along the way keep an eye out for a large herd of bighorn sheep, the Amtrak train chugging along on the opposite river bank and rafters enjoying the beginning of the whitewater season.
At the Hanging Lake Rest Area, secure bikes and get ready for a picture-perfect hike. At a little less than a mile long, the trail to Hanging Lake is steep but well-maintained with plenty of places to rest. On the trail's final ascent, a handrail helps visitors, guiding them to the boardwalk that partially borders the waterfall-fed lake. Interpretive signs explain the geological history and the locale's designation as a National Natural Landmark. Don't miss the short walk to Spouting Rock where water barrels through a hole in the rock. After taking copious photos, head back to the rest area.
Ride toward Glenwood Springs along the bike path, stopping at the Glenwood Canyon Resort near the No Name exit. Plan to spend an hour or more here experiencing the thrill of ziplining across the Colorado River and navigating the challenging high ropes course and climbing wall. The final trip into Glenwood Springs is a leisurely one. After so much activity, stop at the Glenwood Hot Springs and relax with a soak in world's largest hot mineral springs pool. For dinner, try the Glenwood Canyon Brewpub for delicious meals accompanied by homebrews for adults and handcrafted root beer for kids.
Day 2 – For families, couples or groups, rafting through Glenwood Canyon is an unforgettable experience. Choose a half-day trip for a mix of whitewater thrills combined with easy float sections that are ideal for swimming and splashing. Natural hot springs percolate throughout this section of river, and rafting guides know just where to stop for an impromptu hot mineral spring soak. Raft trips culminate conveniently close to the Iron Mountain Tramway; with a quick change into dry clothes visitors are ready for an exhilarating afternoon at Glenwood Caverns Adventure Park.
Aboard the Iron Mountain Tramway, be sure to take in the magnificent views of the Roaring Fork Valley with Mount Sopris and the Elk Range to the south. At the top, disembark and get ready to spend the rest of the day exploring, laughing and yes, even screaming! Glenwood Caverns Adventure Park is home to several thrill rides including the Cliffhanger Roller Coaster, the highest elevation rollercoaster in America, and the Giant Canyon Swing, a hydraulic swing that swoops guests out over Glenwood Canyon. Other rides include the kid-friendly Wild West Express Coaster, the Mine Wheel, Soaring Eagle Zip Ride and Colorado's longest Alpine Coaster. Before Glenwood Caverns Adventure Park had rides and activities, it was famous for its spectacular caverns. Take a 50-minute guided tour through one of the most highly decorated cave rooms in Colorado and see exquisite examples of formations including stalactites, stalagmites, cave bacon, soda straws and more.
End the day with a good meal and a belly laugh. The Glenwood Vaudeville Revue is a pub-style dinner theater that features a two-hour family fun show with professional actors who perform a mix of skits, jokes, audience participation, barbershop numbers, novelty songs and more.
Day 3 takes a historical turn. Doc Holliday, best known for his participation in the OK Corral shootout with the Earp brothers, is buried in Linwood Cemetery. Though no one knows the exact location of his remains, a stone marker commemorates the gunslinger dentist who succumbed to tuberculosis in Glenwood Springs. Keep an eye out for the marker of Harvey "Kid Curry" Logan, another outlaw interred in the cemetery.
Continuing with the history theme, head to Doc Holliday's Saloon for lunch, one of Glenwood's oldest and most historic watering holes. Located downtown beneath the 20-foot tall neon pistol sign, Doc's is a tavern with authentic Old West charm. Images of Doc adorn the walls, along with photos of other Western characters, both famous and infamous.
After lunch, set some time aside to explore the rest of Glenwood Springs aboard a personal transporter. Segway excursions are the latest sightseeing craze, and tours depart hourly from downtown. Guides show visitors all they need to know about how to maneuver and operate the leading-edge mobility technology. Glide around town, through Glenwood Canyon or even up Red Mountain for some of the best views around!
This three-day itinerary highlights many of Glenwood Springs' top attractions and activities, but there's plenty more to do, see and experience. Find out more at http://www.visitglenwood.com or call for lodging reservations, 888-4-GLENWOOD (888-445-3696).
About Glenwood Springs
Glenwood Springs is located between Aspen and Vail, 165 miles west of Denver and 90 miles east of Grand Junction on I-70 off Exit 116. Glenwood Springs is home to many attractions and amenities including Hanging Lake, Glenwood Caverns Adventure Park, Glenwood Hot Springs, Yampah Vapor Caves and Sunlight Mountain Resort. For more information about Glenwood Springs, Colorado, call 970-945-6589 or go to http://www.visitglenwood.com/. For lodging reservations, call 888-4-GLENWOOD (888-445-3696). A complete press kit, press releases and downloadable photos are available at http://www.visitglenwood.com/glenwood-springs-media.
Media Contacts:
Lisa Langer, Vice President of Tourism Marketing
Glenwood Springs Chamber Resort Association
970-230-9035
lisa (at) glenwoodchamber (dot) com
or
Vicky Nash, Public Relations Representative
Resort Trends, Inc. – media communications for the travel & tourism industry
970-948-4923
Vicky (at) resorttrends (dot) com