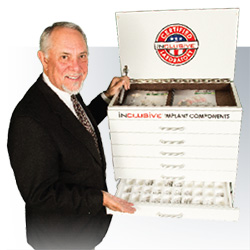 All-inclusive pricing is the key to providing dentists with consistent and affordable lab fees.
Newport Beach, CA (PRWEB) March 04, 2013
Glidewell Laboratories, industry-leading provider of dental lab products and services, announced today the expansion of its Inclusive® Certified Laboratory Program to include a stocking inventory of implant components at 50 percent off their already low list prices. Under the expanded program, dental laboratories will be able to customize a stocking inventory to support their individual lab's needs and purchase the assortment at half price.
Maintaining an implant component inventory allows dental labs that offer implant services to control costs by eliminating unnecessary component shipping fees. Working times can also be minimized because cases will no longer spend time sitting on the hold bench while the lab waits for parts to arrive. By using Inclusive brand implant components, which are compatible with implant systems from all of the major implant manufacturers, dental labs can streamline their implant component inventory and avoid the unnecessary costs associated with stocking implant components from multiple third-party manufacturers. Inclusive Implant Components are uniformly priced across all platforms.
"Variable pricing on implant components leads to inconsistent and unpredictable lab fees that significantly hinder a dental practice's financial performance," says Glidewell Laboratories Chief Operating Officer Greg Minzenmayer, adding that, "all-inclusive pricing is the key to providing dentists with consistent and affordable lab fees." Minzenmayer goes on to say that the only way for labs to provide their customers with all-inclusive bundled packages is to work with a company like Glidewell that offers uniform pricing across all major implant systems.
According to Minzenmayer, all-inclusive pricing is also the best tool for building a large implant laboratory. He cites the implant department at Glidewell as testament to this claim: "Glidewell opened its Implant department in 2006. Today, it averages more than 400 implant cases per day and is growing at 38 percent." Minzenmayer attributes this success largely to the lab having a just-in-time inventory that allows for uniform all-inclusive pricing, and quick and efficient case turnaround. "The inventory allows us to maintain a high service level that often exceeds customer expectations," says Minzenmayer.
The labs can choose from three customized packages of implant components that include implant analogs, abutment analogs, titanium abutments (3 mm or 6 mm) and lab screws. Inclusive Implant Components have FDA 510(k) clearance for compatibility with prosthetic connections from all of the major implant manufacturers, including DENTSPLY Astra Tech, Biomet 3i, Nobel Biocare, Camlog, Straumann and Zimmer.
Inclusive brand implant components are distributed by Glidewell Direct and produced by Prismatik Dentalcraft in an ISO 13485 certified environment operating under FDA Current Good Manufacturing Practices (cGMPs). These manufacturing practices ensure tight tolerances, precision machining, state-of-the-art processing and cleaning, and extensive validation testing — from fatigue strength assessment to packaging integrity analysis.
Dental laboratories who participate in the Inclusive Certified Laboratories program join the nationwide network of providers who guarantee the strict quality and value pricing of Inclusive brand precision-milled implant components. Certified partners are featured on http://www.inclusivedental.com and in national print advertising campaigns. The network currently consists of 63 laboratories in 20 different states. For additional information about the Inclusive Certified Laboratory program, please visit http://www.inclusivedental.com or call 888-303-3975.
Glidewell Laboratories is a privately owned corporation that has more than 42 years of history as a provider of high-quality services and products to dental laboratories nationwide. It is one of the most resourceful dental laboratories in the world. Its newly developed CAD/CAM processing capabilities are recognized as among the most advanced in the industry. To view our large selection of products and services, visit the Glidewell Laboratories website, http://www.glidewelldental.com.