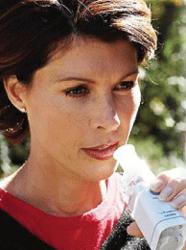 Americans are likely being exposed to a new super pollen
Ashton, MD (PRWEB) September 25, 2012
If you've been in the States for the past few months, it probably won't surprise you to learn that this was the third hottest summer on record. Not only was it hot, but it got hot early, giving plants plenty of time to bloom and flood the air with pollen. The relatively low humidity this summer meant there was no moisture to get that pollen out of the air. Basically, it was a terrible summer for asthmatics and anyone with allergies.
JustNebulizers' Bryan Mercer, a licensed pharmacist for over 30 years, commented on the extra allergens this summer, saying "After selling nebulizers for as long as we have, we've seen a definite trend where sales dip in the summer then rise back up in September and October. But this year sales have stayed strong all summer. It's good for business, but bad for those of us with asthma."
He's not the only one noticing the change. A recent article by the Washington Post said that not only is the increased heat making allergy season last longer—it's making it more potent. According to David Peden, an allergist at the University of North Carolina "Americans are likely being exposed to a new super pollen. Studies have shown that plants treated with carbon dioxide and ozone emissions—causes of global warming—release a more potent pollen, with greater amounts of allergens per pollen grain."
It would seem that the future looks grim for those with asthma. But fortunately as pollens are getting worse, nebulizers and other asthma treatments are getting better. Plus, as the technology advances prices are going down. "We now offer several nebulizers below $50," said Mercer. "Or if you're willing to pay a little more, there are several portable ultrasonic nebulizers. You can take them with you wherever you go and the treatments are virtually silent. Our most popular model, the Omron Micro-Air, runs off AA batteries. You can't get any simpler than that."
About JustNebulizers.com
JustNebulizers.com provides respiratory products throughout the United States for people of all ages seeking the very best breathing treatments. JustNebulizers.com understands the importance of choosing the right nebulizer equipment. That is why they provide the largest selection of the best nebulizer systems, parts, accessories, and respiratory care products as well as comprehensive and informative details about all of their products. With a wide assortment of respiratory products at the very best prices, their products fit the needs of both young and old persons who need some breathing assistance.