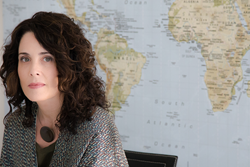 No business environment today is local, we interact with people from all over the world, everywhere, all the time.
PHOENIX (PRWEB) September 12, 2018
"We work in a new global environment today—with access to cultural and geographic diversity, and technology never seen before," says global leadership expert and author, Melissa Lamson. "For this reason, management is more complicated than ever." Lamson, who has just launched her sixth book, "The New Global Manager," believes that having a global mindset is vital in any workplace today.
Traditional approaches that worked decades ago—or maybe just five years ago— are insufficient for the range and breadth of the demands of our new global environment. This reality places a heavy responsibility on managers, who operate in this new global environment every day.
"No business environment today is local, we interact with people from all over the world, everywhere, all the time," she explains. "And, because our workplaces are increasingly virtual, we have connections to locations and cultures like never before."
Lamson's latest book, "The New Global Manager: Learning to Manage in a Complex Environment" is written as a practical guide to help managers understand the complexity of cross-cultural interactions. In it, she provides research and proven methodologies the reader can implement in their own organizations. "The New Global Manager" is available now on Amazon.
In addition to a plethora of management advice and suggested tools offered in "The New Global Manager" – like time management, coaching and giving critical feedback, Melissa introduces actionable techniques including, 4DCulture™ model and the OAR™ (Observe, Ask, React.) 4D Culture explores the value and cultural competence of Time, Communication, Thought Patterns, and Formality. OAR is a three-step process global managers can use to communicate successfully in cross-cultural situations and tailor behavior to obtain desired results.
Lamson believes it is vital to equip managers with tools and techniques to help them understand their international working environment and the mosaic of individuals within it. "The New Global Manager" has already garnered the ranking as number one in Amazon's Women and Business category.
About Melissa Lamson
Melissa Lamson is an author and sought-after speaker, facilitator, and executive coach with more than twenty years experience growing leaders, bridging cultures, and empowering teams. Melissa Lamson's newest book, launched on September 6, 2018, is "The New Global Manager: Learning to Manage Well in a Complex Business Environment."
Considered a thought leader in her industry, Lamson's insights have been featured in the Financial Times, About.com, and Fast Company. She is a regular columnist for Inc.com and has spoken at major international professional conferences. Lamson has authored six books, including "#WomenAdvance," "#BridgingCultures," "#CulturalTransformation," "No Such Thing as Small Talk: 7 Keys for Understanding German Business Culture," "Why European Companies Fail in the US Market and How They Can Succeed," and "The New Global Manager."
Melissa Lamson's client roster includes companies like Space X, SMA Solar, SAP, and LinkedIn. She also has a proven track record in Diversity, and currently, facilitates a popular workshop for women on Networking & Advancement Strategies. Melissa Lamson resides in Phoenix, Arizona.
For more about Melissa Lamson and Lamson Consulting, visit http://www.lamsonconsulting.com.