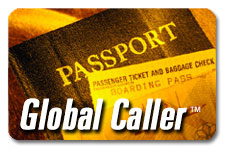 ZapTel customer service is excellent, the people are the friendliest and most competent that I have come across from any company, well done...CARL W.
Chicago, IL (PRWEB) February 28, 2013
Just in time for spring and summer trips abroad, ZapTel introduces the Global Caller rechargeable international phone card with low country to country calling rates.
The new ZapTel Global Caller, launched this week, offers great rates from the USA to other countries, as well as excellent rates for calling country to country outside the USA, and back to the USA.
Global Caller is best for international travelers that will be spending time in these popular travel destinations:

Canada (7 cities)
France - (National access number)
Italy - (Rome access number)
Japan - (Tokyo access number)
Mexico - (Mexico City access number)
Switzerland - (Geneva access number)
United Kingdom -UK - (National access number)
*Note that the access numbers may incur in country long distance charges if you are not in the local city.
The rates for each country, to each possible destination country, are all available online at ZapTel's Global Caller phone card rates page. ZapTel's Global Caller charges a simple rate per minute. Payphones and hotels may add surcharge for using their phones.
Other advantages of using a virtual phone card like ZapTel Global caller are:
Rechargable online or by telephone
PIN-less dialing - can set it up to automatically work from a mobile or land phone without a PIN
Check rates anytime at zaptel.com
About ZapTel
ZapTel.com is leading online international phone card company, with US-based live customer service for ordering, and self-provisioning services on each customer's dashboard.
In business since 1999, ZapTel is mentioned by a leading consumer magazine as a good place to buy phone cards online, and is an INC 500 company.