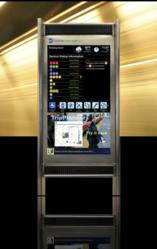 sleek and rugged touch screen kiosk
Medfield, MA (PRWEB) March 24, 2013
Comark Corporation will have the award winning "On The Go" Kiosk on display at GlobalShop 2013, to be held from April 16 – 18, at McCormick Place in Chicago, IL. The rugged monument kiosk features a stainless steel design with a 47" LCD display, including an integrated 3M DST touch screen, dual stereo speakers and high resolution camera. The kiosk was awarded "Outstanding Project of the Year in Advanced Traveler Information Systems" by the Intelligent Transportation Society of New York, in June of 2012.
Comark, in conjunction with the New York MTA, Cisco Systems, Antenna Design and recently Control Group, developed the "On The Go" Kiosk for a pilot project in the New York City Transit System. The kiosk provides customers with real-time, digital information, including complete trip planning, transit service status, nearby restaurants and services, and guides to other destinations.
Located in Booth # 857, Comark will be showcasing a variety of rugged, reliable kiosks and digital signage displays, including the award winning "On The Go" Kiosk.
To learn more about Comark's products and services, please visit booth # 857, or contact Scott Plesh at 508-359-8161 ext.115, or by e-mail at splesh(at)comarkcorp(dot)com, or visit our website, http://www.comarkcorp.com.
About Comark Corporation
Comark Corporation is a designer and manufacturer of high-performance, ruggedized computer and display solutions for the retail, self service and digital signage markets, as well as military, mobile, building automation and industrial automation market segments.
Comark offers a variety of standard rugged and reliable kiosk and digital signage solutions for retail or self service applications. Comark can custom design a solution to fit your specific needs or environmental requirements. Comark has provided systems to the world's Fortune 1000 companies for over 35 years. Comark offers a broad range of standard solutions, custom designs and technical support to ensure the success of each and every application.