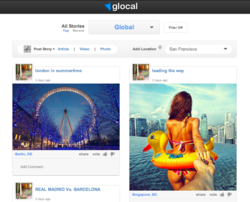 new approach to local content curation done on a global scale
(PRWEB) March 06, 2013
Online social platform glocal.com announced the recent release of its new social sharing web application. Glocal is a new way to share journalism online through articles, videos and photos submitted by users in 113 local markets around the globe. The platform gives users the ability to share their favorite videos, pictures and articles discovered online with their local community, friends, and family. Not only does the platform display user and news coverage from the nearest city, but also displays popular content from cities abroad.
In addition to providing a world-class social experience, the site features a "dateline" button and "post it" bookmarklet. The dateline is a button for users to put on their website or blog, taking a new approach to declaring a story, photo, or video's proximity. When selected, the story is shared on the users page and to the predefined city.
A robust subscription feature is also offered on Glocal, where users can subscribe to popular news providers like CNN, shows like CONAN, news enthusiasts, bloggers, world travelers and their friends.
Glocal's founder and CEO Lincoln Cavalieri says the "Glocal mission is to provide stories to the world's communities from the people who represent them. It's a new approach to local content curation done on a global scale."
The Glocal platform can be viewed at glocal.com. The dateline button can be found at glocal.com/tools.
About Glocal, Inc.
Glocal Inc. is a startup Internet company operating a website that lets people from around the world upload and embed local content. The company was founded in 2010. Glocal Inc. will be at SXSW Trade Show March 10-13, 2013 in Austin, TX, booth number 1570. For more information, see http://www.glocal.com.
Copy the Glocal dateline button here: http://www.glocal.com/tools