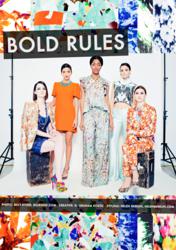 Whether it's the best accessory to buy right now or the perfect al fresco recipe—we're continuing to bring our readers the most exciting content in an even fresher package.

D. Graham Kostic, G&F's Creative and Editorial Director
Chicago, IL (PRWEB) March 20, 2013
Stacey Roney, founder of Beauty on Call partners with former Modern Luxury Magazines Style Editor and Rue La La Art Director D. Graham Kostic to create Chicago-based online video magazine, Glossed & Found (G&F). With the motto "It's Beauty. It's Fashion. It's Fun," G&F gives audiences a fresh peek behind the scenes of the 'best of the best' in fashion, food, fitness, beauty and culture. Hosting creative events that attract elite crowds and producing inspiring fashion editorials have contributed to the increased popularity of the online video magazine.
With a launch in 2009 and a redesign in 2012, G&F has long been the authority in providing unique coverage of the industry's most outspoken personalities like Betsey Johnson, Isaac Mizrahi and Cynthia Rowley mixed with inspiring How-To's and trend-driven shoots. "It's all about the find on Glossed & Found—whether it's the best accessory to buy right now or the perfect al fresco recipe—we're continuing to bring our readers the most exciting content in an even fresher package, " said D. Graham Kostic, G&F's Creative and Editorial Director.
March is Spring Fashion month on G&F and kicking it off is The Ones to Watch issue (March 7th-12th) featuring seven of Chicago's most creative Fashion and Beauty personalities who G&F has tapped as the next big thing. The Spring Fashion Shoot issue features Spring's best trends (March 13th-21st). And, a Fashion and Beauty Giveaway issue rounds out the end of March (March 22nd-29th) with a G&F and Damen + Division jewelry collaboration and contest, as well as, an Ulta Beauty Giveaway. Plus, G&F didn't forget about Spring Beauty! Check out the Spring Beauty Preview featuring the latest make up trends that readers have to try this season with easy how-to application videos.
Offering a unique perspective on all things fashion and beauty, Glossed & Found has built a reputation as the go-to resource for trendsetters who are looking for the latest news on fashion, culture, beauty and events.
About Glossed & Found
Glossed & Found is a weekly online fashion magazine and blog that focuses on the best of the best in the beauty and lifestyle industries. Featuring the personalities behind the products— Glossed & Found produces weekly issues of content that span off-the-cuff video interviews; candid Q&A's into a taste-maker's life; event coverage; and a spin-off blog that does not stop posting. From Isaac Mizrahi to Essie and Miss Piggy to Cynthia Rowley, readers never know who will show up on the G&F screen! G&F's monthly fashion editorials showcase the latest trends in a fresh way—this is inspirational and attainable luxury for every style seeker. Visit Glossed & Found at http://www.glossedandfound.com or http://instagram.com/glossedandfound