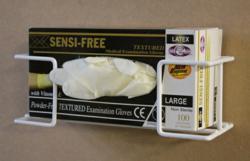 Sensifree has been our premium latex glove since 1994, it is made to a high standard so the defect rate is very low. Which at the end of the day means the customer isn't throwing away money.
London, United Kingdom (PRWEB) March 29, 2013
Almost two decades after it was initially established, The Glove Club is still growing and reaching more care homes, clinics, GP surgeries and hospitals with its Sensifree latex gloves. The main attraction of Sensifree powder-free latex gloves is the excellent dexterity, the glove also has a long cuff for extra protection of the wrist, fully textured surface which provides great grip in both wet and dry conditions and ease of donning the glove.
The change in formulation has improved and added even more features to the glove which include a lower protein content for an even lesser chance of the user having a reaction to latex. The dexterity is greatly increased and provides excellent feeling when using instruments.
As far as hygiene technology is concerned, these gloves were a major step forward when they were first developed and they are still recognised as one of the cornerstones of infection control. This is why the online store at http://www.gloveclub.co.uk continues to offer them in different sizes at low prices.
It's not just doctor's surgeries and care homes that make use of these items. Dental treatment centres, tattoo and piercing shops, scientific and forensic laboratories and other organisations also require sterile environments and high standards of hygiene in order to operate and they are among the businesses that continue to benefit from The Glove Club's range.
About Glove Club Ltd
The Glove Club has been a manufacturer, wholesaler and distributor of medical grade disposable products since 1994. Its experience and expertise of supplying products to a wide range of customers makes it a cut above the rest. In its 18 extensive years of business they have been a leader in latex, nitrile and vinyl gloves, all made to a medical grade (AQL 1.5) and many everyday disposables like masks, paper towels and aprons. They supply to dental practices, nursing homes, funeral directors, veterinaries, hospitals, GP's and even the general public.
Users of disposable consumables can contact The Glove Club on 0500 456 832 or by accessing the new website at http://www.gloveclub.co.uk.
Manoj Parmar, Marketing Manager
Glove Club Ltd
+44 208 991 4303
http://www.gloveclub.co.uk