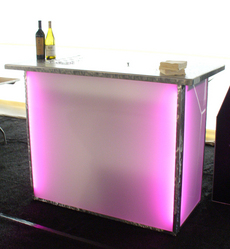 We make events look and function better, while reducing your work load
Knoxville, TN (PRWEB) January 23, 2010
Party planners and caterers frequently report that one of the hardest parts about setting up for an event is the need to move heavy equipment from one location to another. New company BarChefs has found a way to make life easier with a stylish new range of portable, lighted catering equipment.
The BarChefs 56'' glowing commercial grade portable bar is designed to glow in any color using a rechargeable battery, which eliminates the need for an electrical outlet and ensures even outdoor events can look good. These folding cocktail bars are solidly made, easy to use, and come in their own carry cases. Set up takes about one minute and requires no tools. The event bars can stand alone or can be attached to each other, to fit larger event needs. Matching bar extensions, corner units, and accessories will be available soon. The removable panels can also be customized with any graphics or your company logo.
BarChefs is based in Tennessee. Their goal is to provide modern looking tables and event bars, built exclusively for party rental and event companies. It was founded by Andy Lakatos, owner of Barbop Incorporated, a bartending service. BarChefs' line of products, which will soon include matching lighted cocktail and banquet tables, is perfect for weddings, parties, and corporate events. Click here to watch a video demonstration of these cocktail bars at an actual event.
###