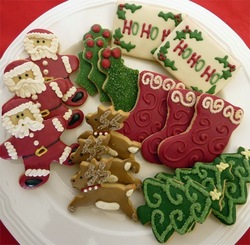 Cookies put a smile on people's faces and we are happy to be able to provide beautiful, decorated cookies to those on restricted diets who would otherwise have to forego a treat
Englewood, CO (PRWEB) December 15, 2009
Beautiful Sweets custom designs and decorates cookies for all occasions and is pleased to announce their gluten-free (dairy-free) line. Gift boxes and baskets are available for every holiday, season, event, or for corporate promotions with logos. They also offer "color your own" cookies that can be decorated by the recipient. The Cookie-of-the-Month Club offers the perfect gift year-round. Gift baskets offer an array of cookies and "Cup a Delight" organic coffee and cocoas are available to compliment the cookies. Beautiful Sweet's cookies are so fabulous that they were featured by Food Network's Al Roker on the show "On the Road" as some of the most beautiful in America.
Beautiful Sweets organic cookies are made from the finest natural ingredients. Totally green, they ensure ingredients come from small family farms, organic coops that support living wages and sustainable farms that enrich local communities. Gluten-free cookies are made in a completely separate kitchen to avoid cross-contamination. Gift boxes are available from four to thirty-two cookies per box. The cookies arrive in eco-friendly packaging in craft gift boxes tied with colorful cotton ribbon. If you have someone on your holiday list on a special diet, this is the perfect gift.
Beautiful Sweets uses all natural, organic ingredients and food-based colorings. Ingredients are pure and wholesome. "Cookies put a smile on people's faces and we are happy to be able to provide beautiful, decorated cookies to those on restricted diets who would otherwise have to forego a treat," says Bob and Laina Mickus owners of Beautiful Sweets
Jean Duane, Alternative Cook started her company after being diagnosed with gluten and dairy intolerance. Alternative Cook produces gluten-free, dairy-free DVDs, video streams and Bake Deliciously! Gluten and Dairy Free cookbook with over 150 baked recipes. A competent recipe developer, Ms. Duane was presented with the goal of developing the gluten-free cookies for Beautiful Sweets with the same texture, taste and mouth-feel as their original cookies. Additionally, the gluten-free cookies had to withstand shipping and have a shelf life of two weeks. "Developing these cookies for Beautiful Sweets was a great experience. I was determined to make the cookies look and taste like their wheat-containing counterparts, and I'm very pleased with the results", says Jean Duane.
For more information on ordering cookies from Beautiful Sweets, please visit http://www.beautifulsweets.com. For video overviews on the cooking instruction DVDs (Kids' Meals, Italian, Mexican and Chocolate) and on Bake Deliciously! Cookbook from Alternative Cook, LLC, please visit http://www.alternativecook.com.
# # #