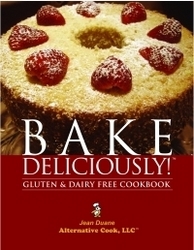 will one day be available in virtually every eatery around the world
Centennial, CO (PRWEB) March 30, 2010
Gluten-free is the new buzzword in the culinary world. Every day, we hear more and more talk about gluten-free diets as restaurants offer gluten-free menus and grocers offer gluten-free off-the-shelf selections. The International Association for Culinary Professionals is a forum over 3000 culinary professionals from 30 different countries. This year, the Annual Convention in Portland Oregon will be a gathering and information exchange for world-renowned chefs, cookbook authors, food critics, restaurant owners and culinary professionals. 'Bake Deliciously! Gluten and Dairy Free' cookbook author, Jean Duane, Alternative Cook will demonstrate how to make gluten-free sandwich bread and gingerbread muffins on Saturday, April 24. The four-hour SLICED symposium will cover trends in baking and breadmaking.
"Presenting at the IACP is a great honor and I celebrate that by presenting to this audience, "gluten-free" will one day be available in virtually every eatery around the world," says Jean Duane, Alternative Cook.
For many, a gluten-free lifestyle is hardly a fad. People who cannot break down the protein gluten often produce antibodies in their bloodstream, making gluten-intolerance systemic - it can cause over 200 different symptoms such as migraines, joint pain, pervasive itchy rash, digestive disorders, weight loss, weight gain, and more.
Joining Ms. Duane are presenters Nancy Baggett, author 'Kneadlessly Simple' 'The All-American Cookie' book and numerous others, Silvana Nardone, Editor-In-Chief Everyday with Rachael Ray and author of 'Cooking for Isaiah' and Peter Reinhart, James Beard award winner, author of 'Whole Grain Breads: New Techniques, Extraordinary Flavor' and baking instructor at Johnson & Wales University. Ms. Nardone and Ms. Duane will present on gluten-free baking and Mr. Reinhart and Ms. Baggett will present on the no-kneed phenomenon using traditional bread ingredients. Bob's Red Mill will provide tastings of the 'next generation of grains' and show alternative flours used in gluten-free baking. It should be a rip-roaring session and attendees will leave feeling empowered to bake virtually any kind of bread.
The International Association for Culinary Professionals IACP is a not-for-profit professional association that provides continuing education and development for its members who are engaged in the areas of culinary education, communication, or in the preparation of food and drink.
Jean Duane, Alternative Cook and IACP member, loves cooking deliciously "without". Her passion for cooking, combined with her professional training has enabled her to create a series of full-length cooking DVDs (Chocolate, Mexican, Italian and Kids' Meals), video streams and the Bake Deliciously! Gluten and Dairy Free cookbook. For more information, please visit Alternative Cook
# # #