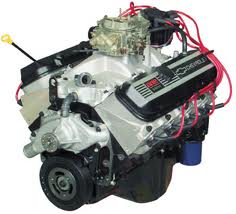 This new Spring discount is currently applicable to online and telephone orders for GM motors.
Columbus, Ohio (PRWEB) March 09, 2013
General Motors is the leading engine builder in the world due to the numbers of its North American and European facilities. While this development is centered around new builds, locating replacement engines for preowned vehicles can be a challenge for buyers. The CrateEngines.co company is now discounting its GM crate motors for sale. This new Spring discount is currently applicable to online and telephone orders for GM motors. This new discount information can be found online at http://www.crateengines.co/gm-engines/gm-crate-motors-sale.
GM was one of the first companies to offer OEM engines to the public. The performance line of crate engines were introduced in the 1990s. These motors have been traditionally used by project car builders and others able to afford the high retail pricing. Locating an affordable version of a General Motors engine is now possible with the new discounts applied online.
The new price structure available to buyers includes engines for passenger cars, sedans, minivans, pickups trucks and SUVs. This range of inventory is expected to help buyers find a match quickly.
Warranty issues are typically found with a preowned motor purchase. The average retailer supplies a one-month warranty protection time frame after a sale is complete. The average installation can exceed this period of time making most warranties invalid.
The CrateEngines.co company has recently created a new warranty program for buyers. Because the builds are new or refurbished crate engines, this company is able to cover all of the parts installations and labor put into every build. These efforts are helping more buyers to be protected for a three-year period.
The new Chevrolet discounts announced online are in addition to recent Ford engine inventory added. Crate engines for the Ford Motor Company have been increased in numbers to help buyers locate engines faster. The news release for this inventory adjustment can be read online at http://www.prweb.com/releases/cheap-crate-engines/crate-engines-for-sale/prweb10392704.htm. This build up of the Ford and General Motors inventory online is helping to broaden the resources available to buyers in the U.S.
About Crate Engines Co.
The Crate Engines Co. produces OEM engines for direct sale to buyers online and by toll-free telephone number. This company maintains its own inventory and has hired engine specialists to handle all customer inquiries. Discounted pricing recently initiated by this company is helping to lower engine purchase prices for buyers. The generous warranty program now in place protects all purchases for a three-year period. The Crate Engines Co. ships all orders completed on the same day as processed. These measures result in faster delivery times for customers and zero damage deliveries.